News story
UKAEA historian remembered
A special event was held at Culham to remember UKAEA historian Lorna Arnold, who died earlier this year aged 98.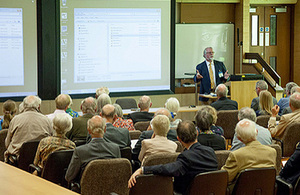 The event, organised by Lorna's son, saw nearly 80 of her former colleagues and friends attending to commemorate her life – amongst them several senior former UKAEA figures.
Lorna worked for the British Government at the end of the World War 2, helping to partition Germany between the former Allies, and even attended the meeting that founded NATO. But it was joining the UK Atomic Energy Authority in 1959 that ignited her interest in the fledgling nuclear industry. She soon became an expert on all aspects of the UK's nuclear programme, writing seminal books on British Atomic Weapons trials in Australia and the Windscale accident of 1957 amongst others.
Speakers at the event, both personally and through video messages, remembered Lorna's rich life. A fitting memorial for a remarkable lady and a key figure from the UKAEA's past.
Published 4 July 2014