News story
UKAEA crowned apprentice team of the year
Engineering apprentices from the United Kingdom Atomic Energy Authority (UKAEA) have been named the country's apprentice team of the year.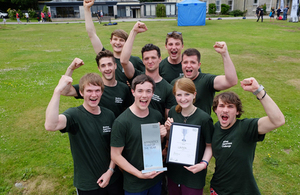 Based at Culham Science Centre, near Oxford, the team competed against apprentice teams from across the country as part of the Brathay Apprentice Challenge – the search to find the apprentice team of the year.
They battled off tough competition from seven other teams after proving their logistical, team building and communications skills and delivering a community project that involved volunteering with the Helen and Douglas House Hospice and taking part in a £35,000 fundraising drive.
UKAEA narrowly beat HMRC Digital Newcastle into second place and HSBC who finished third. Teams from Apprenticeships Norfolk Network, Hampshire County Council, HMRC Surge and Rapid Response, IBM and QinetiQ also competed in the national finals.
Team leader and Electronic Engineering apprentice, David Godden, said on winning the challenge:
We are ecstatic to have won the title of 'apprentice team of the year'. The whole team has worked really hard, not only in the last few days but throughout the whole challenge – and we've had huge support from our colleagues, our families and friends.

We hope that winning the title will support our efforts to inspire young people and promote apprenticeships. Hard work, determination and self-confidence are key in success. We also hope that young people can use our journey as an inspiration for themselves.
Skills Minister Nick Boles said:
What an achievement for UKAEA to be crowned apprentice team of the year. UKAEA have shown how getting stuck in and learning on the job gives you the skills to achieve great things.

Well done to all the participants for taking part in the Brathay Apprentice Challenge, they have been worthy ambassadors. I hope their hard work in going out into the community and showcasing the opportunities an apprenticeship offers has inspired more young people to see an apprenticeship as their fast-track to a top career.
A full list of teams that entered the Brathay Apprentice Challenge 2016 is available at brathay.org.uk/challenge.
Published 17 June 2016