UK works towards zero infections of HIV
Today the UK announced it will help reduce new HIV infections by at least half a million among women in Africa by 2015.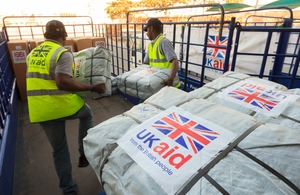 Stephen O'Brien speaking at the High Level Meeting on AIDS
Countries meeting at a United Nations summit in New York adopted ambitious new targets to defeat HIV and AIDS, with the aim of ridding the world of the disease that has claimed more than 30 million lives since it was first reported three decades ago.
The historic declaration included a recommitment to universal access and a recognition that prevention must be at the heart of the response. It contains clear, measurable goals to 2015, including:
to halve sexual transmission of HIV,
to ensure that by 2015 no child will be born with HIV,
to increase universal access to antiretroviral therapy,
to get 15 million people onto life-saving treatment,
to halve tuberculosis deaths in people living with HIV by 50%
and to reduce HIV transmission among intravenous drug users by 50%.
10 June 2011
The UK perspective: Watch Stephen O'Brien's video blog on HIV
** 
09 June 2011
Britain to prevent half a million HIV infections among women in Africa
Stephen O'Brien is today announcing that the UK will help reduce new HIV infections by at least half a million among women in Africa over the next four years. At an international meeting on AIDS in New York, O'Brien is outlining the UK's plans to tackle HIV which has claimed over 30 million lives. This meeting marks 30 years into the AIDS epidemic and is a unique opportunity to move the agenda forward and chart the future course of the global AIDS response. 
Making zero HIV a reality
The main focus of the UK's plans moving forward will be reducing new HIV infections among women and girls, ending paediatric AIDS, and addressing the TB epidemic - the leading cause of death among people living with HIV. Last week we published our new position paper on HIV - Towards zero infections - which sets out our continuing commitment to the goals of universal access by 2015.
The UK will tackle the global HIV epidemic by:
Significantly reducing infections: We will concentrate our efforts where it is needed most, particularly in Africa, focusing our HIV programmes in fewer countries where we can have the greatest impact and working through partners elsewhere. Globally, AIDS is the leading cause of death among women of reproductive age and in Sub-Saharan Africa young women aged 15-24 years are as much as 8 times more likely than men to be HIV positive.
Increasing access to HIV and TB diagnosis, treatment, care and support: Britain will work with the pharmaceutical industry to get even more people on life saving treatment. We will drive down costs for medicines, securing lower prices and better value for money in order to increase access, making sure we spend every penny the best way possible. Our work with the Clinton Health Access Initiative to lower the price of the drug tenofovir will generate enough cost-savings to buy medicines for an additional 500,000 people by 2015.
Tackling stigma and investing in research: We will work with groups including Harm Reduction International to help them tackle policies which deny access to treatment and care for those living with HIV and AIDS. This week we have finalised a new research programme with the London School of Hygiene and Tropical Medicine to understand better the underlying drivers of HIV and find innovative solutions.
Stephen O'Brien, said:
"The UK Government is at the forefront of the global battle against HIV and AIDS. While we have made huge progress against the HIV epidemic there are still over 33 million people living with HIV.
"We will concentrate our efforts where they are needed most - particularly in Africa where HIV remains a public health emergency worsened by the TB epidemic - and will help prevent at least half a million HIV infections among women.
"Our plans will be underpinned by our drive to empower women and girls, our focus on evidence, and ensuring value for money by reducing the costs of treatment."
The meeting in New York is poised to sign off on an ambitious political declaration which sets the agenda for the AIDS response through to 2015.  The UK has helped to secure agreement in the following critical areas:
recommitment to universal access with agreement to a goal of 15 million people on treatment by 2015 and a recognition that prevention must be at the heart of the response 
agreement that the key populations at higher risk of infection must be targeted if we are going to defeat this epidemic
a reassertion of the need to use TRIPS flexibilities for the benefit of public health.
Published 10 June 2011