UK wins 2017 World Athletics Championship bid
London has been awarded the World Athletics Championships in the summer of 2017.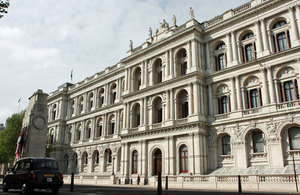 Prime Minister David Cameron welcomed the news:
"This is great news both for London and the whole country. There is no better way to follow the Olympics, and to build on its legacy, than by welcoming the world's greatest athletes back to London for the 2017 World Championships.
We are determined to make 2017 the most successful World Athletics Championships there has ever been and we look forward to welcoming athletes and fans from the world over to our vibrant, multicultural, sports-mad capital."
Sports Minister Hugh Robertson, who was in Monaco for the decision as part of the bid team said:
"I am absolutely delighted that London has won the right to host the World Athletics Championships in 2017.
"Our bid showed how passionate the UK is about athletics and this will leave a fantastic legacy from London 2012, with the Championships taking place in the Olympic Stadium."
London beat Doha by 16 votes to 10.
Published 11 November 2011