UK will fight hard to secure concrete commitment on MDGs
Deputy Prime Minister Nick Clegg made his first major speech on international development today, explaining how the UK government will meet its commitments to the Millennium Development Goals (MDGs).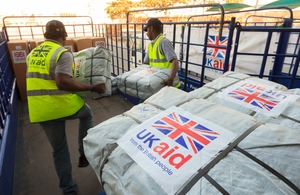 His speech comes ahead of the UN MDG Review Summit in New York on 20-22 September, where Clegg will lead the UK delegation. He was speaking at an event convened by Bond, the membership body for over 370 UK NGOs working in international development.
Video: Highlights of the Bond event
Video highlights of the Bond pre-MDG SUmmit event.
During the event Bond revealed that, over the last year, 1.3 million people in Britain have taken part in campaigns calling for the UK government to fulfil its MDGs commitments. 
Nick Clegg said:
"With the 2015 deadline looming we need to make sure the next five years are marked not by warm words and platitudes but firm, concrete action.
"The UK can be proud of the leadership it is showing on international development.  At next week's Millennium Development Goals Summit in New York I will be fighting hard to secure commitments from other nations and the private sector that will deliver real progress towards meeting these vital goals.
"Over the last decade the UK has played a major part in getting 47 million children into school and helping four million people living with HIV get vital treatment."
The Deputy Prime Minister was joined at the event by Andrew Mitchell, Secretary of State for International Development. Outlining the UK priorities for the MDGs, Mr Mitchell said: 
"It is profoundly shocking that, in the 21st Century, giving birth is not a blessing but a death sentence for hundreds of thousands of women every year.
"That's why we have made the most off-track of all the MDGs - to reduce the number of maternal deaths by 75% - the UK's top priority for next week's MDG Summit. International action on maternal health has the potential to save countless lives.
"In addition, another priority for the UK will be to galvanise international action to tackle malaria, a disease which causes nearly a million entirely preventable deaths every year."
Nick Clegg and Andrew Mitchell were joined at the event by Juanita During from WaterAid in Nigeria and Save the Children supporter Mariella Frostrup.
Published 15 September 2010