World news story
UK looks forward to continuing bilateral defense assistance
UK has a long-standing programme of bilateral defence assistance with Armenia. We will continue bilateral defence engagement with Armenia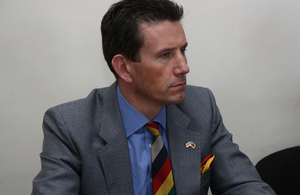 In September 2013 we welcomed the new Defence Attache to Armenia, Lieutenant Colonel Nick Wilkes (resident in Tbilisi). He will lead the implementation of Britain's important programme of bilateral defence cooperation with Armenia.
British MOD Adviser Stephen Glover has begun to assist the Armenian Ministry of Defence with the second stage of its Strategic Defence Review building on work on the first stage particularly relating to work on reforming the Armenian army's NCO structure. Stephen also contributed a presentation to the Armenian MOD's conference in November on Building Integrity.
Britain continues to provide training to Armenian servicemen. For the past three years annually we have sent one Armenian cadet to the Royal Military Academy in Sandhurst. This year Lt Cadet Sevak Virabyan was awarded the Hodson's Horse Merit Award for outstanding achievement.
During 2013 12 Armenian servicemen participated in various training courses at the British Military Advisory and Training Team in the Czech Republic, 8 officials from the Armenian MOD participated in English language courses in York St John University and 7 Armenians participated in courses provided by the British MOD and Shrivenham Defence Academy in Tbilisi and Kyiv on Managing Defence in a Wider Security Context.
Finally, the British MOD has paid for long-term English language training for Armenian officers and cadets in various educational training establishments in Armenia.
In 2014 we will continue our bilateral programme of engagement with Armenia and will also look for new opportunities to further our defence cooperation.
Published 31 January 2014
Last updated 3 February 2014
+ show all updates
update the document silently
just added one full stop.
made minor changes
First published.