UK welcomes the world to London 2012
The UK welcomes the world to the London 2012 Olympic and Paralympic Games.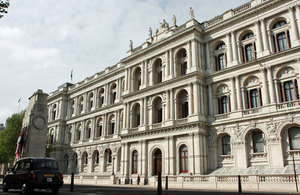 The moment is finally here! The United Kingdom is ready to welcome the world to the London 2012 Olympic and Paralympic Games, and we invite you to join the celebrations.
State of the art sports venues stand within a beautiful Olympic Park that will deliver an environmental legacy for years to come. Volunteers from across the country have offered their time to make sure every visitor experiences the warmest of welcomes.
Hosting the Games is a massive undertaking, equivalent to staging 46 simultaneous world championships over just a few weeks. But since winning the bid in 2005 a huge amount of work has gone into getting the country ready, and we believe London 2012 will stand out as a Games to remember.
London 2012 is all the more special as it brings the Paralympic Games home for the first time to the birthplace of the Paralympic movement. Building on the spirit of Stoke Mandeville, these Games will make a difference to disabled people around the world, by changing attitudes, improving access and opening up new opportunities across sport, culture and business.
Olympians and Paralympians, athletes and coaches, spectators and tourists: we want you all to share in our excitement and celebrations. And we hope you will take away wonderful memories of a summer of sport and culture like no other.
Welcome to London 2012!
.
Published 23 July 2012