World news story
UK welcomes Tech Rocketship Award winners from Australia
The 10 Australian UK Tech Rocketship Award winners, selected from 200 applicants, arrive in London to accelerate the set-up of their UK operations.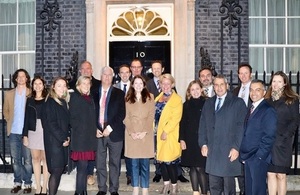 The UK Department for International Trade (DIT) has brought 10 leading Australian technology companies to the UK selected from almost 200 scale-ups who vied for a place on the UK Tech Rocketship Awards programme.
All participants plan to take advantage of the rapidly growing UK tech eco-system to grow their business and establish a presence in the UK.
Tonight (Tuesday 19 February) Her Majesty's Trade Commissioner for Asia Pacific, Natalie Black and Australia's Senior Trade Commissioner to the UK, David Watson, officially welcomed the delegation to the UK at a reception at Australia House in London.
The reception, hosted by the Australia-United Kingdom Chamber of Commerce, attracted over 100 senior business and industry leaders from the London tech and investor community.
Her Majesty's Trade Commissioner, Asia Pacific, Natalie Black said:
I am delighted to be back in London this week to personally welcome our Tech Rocketship Award cohort from Australia.
The UK has one of the most vibrant and innovative tech ecosystems in the world backed by our industrial and digital strategies. With more VC investment and unicorns than anywhere else in Europe - it's the natural next step for ambitious Australian and New Zealand tech companies.
We are very excited to be supporting our Tech Rocketship winners and we look forward to their UK success.
Australian High Commissioner to the UK, George Brandis said:
I am delighted that we could host the Tech Rocketship Award Winners at Australia House this evening. This delegation further strengthens the excellent bilateral technology relationship between Australia and the United Kingdom and demonstrates the world-leading quality of Australian innovation and entrepreneurship.
For many of Australia's leading technology firms, the United Kingdom is a natural next step. Our shared culture and regulatory alignment mean that although the geographic distance may be large, our 2 countries remain neighbours in trade and innovation.
Australia's continued economic growth provides an excellent launch-pad for UK technology firms thinking about expansion into the Asia-Pacific, and tonight's reception also highlights the opportunities for investment for our British guests.
The companies will spend their time in London on a tailored programme of meetings, networking events and workshops aimed at accelerating their UK expansion plans.
The Tech Rocketship Award winners are:
Joining the delegation is the 'Feeding the Nation' category runner-up, Aglive, who is attending in place of winner Yume, and Tech 23 winner, Daisee.
The UK Tech Rocketship Awards are sponsored by the Australian British Chamber of Commerce and Grant Thornton who are also committed to strengthening the bilateral trade and investment relationship between the UK and Australia.
Media Contact
UK Department for International Trade
British Consulate-General, Sydney
Tel: +61 (0)2 8247 2274 Mobile: +61 (0)407 190 867
(UK media should contact Bailee Dean on +44 7728 243217 in the first instance)
Additional notes
Find more about the UK Tech Rocketship Awards in Australia and New Zealand.
Quotes from winning companies
Tom Rayner, Myriota, Business Development Executive:
Our trip to the UK comes at a time when we are expanding our global operations. Earlier this month we announced that California based company Tyvak would be developing our next generation nano-satellites, and we're excited for the opportunity that working in the UK is going to provide us with.
Our involvement in the UK Tech Rocketship Awards comes at a time of rapid growth for Myriota. We're on a mission to provide multiple sectors increased connectivity thanks to the deployment of our patented technology via multiple nano-satellites, and were earlier this month announced as one of Forbes' 2019 Top 25 IoT startups to watch.
Lucy Lloyd, Mentorloop, CEO said:
Twelve months ago, 10% of Mentorloop's client base was from outside Australia, it's now at 22% and a huge part of that shift is a result of our clients in the UK, such as the BBC, Just Eat, Quilter, Xero and Bupa. Not only is the UK an awesome market in itself, it's the gateway to Europe and puts us in a convenient time zone to service North America.
UK business is dialling up the innovation - with increasing competition and macro factors they know they can't afford to stand still or continue to roll out stale people initiatives. So, we're looking to the UK to capitalise on the emerging trend of businesses putting their people first with mentoring.
The UK tech sector:
is worth nearly £184 billion to the UK economy
is growing 2.6 times faster than the wider UK economy
attracted more venture capital investment than anywhere else in Europe in 2018 with £6.3 billion ($7.9 billion) in funding from investors.
had a landmark year for exits in 2018: achieving sales, IPOs and mergers worth $40 billion, more than every other country in Europe
has created 35% of all unicorns from Europe and Israel (60 out of 169)
is made up of over 223,000 tech companies
Find further information on dropbox. This includes:
more on our winning companies
background on UK-Australia tech trade and investment
statistics and images
Published 19 February 2019