World news story
UK welcomes participation of Guatemalan Vice-president in nutrition event in London
The British Government welcomed the participation of Guatemalan Vice-President, Roxana Baldetti, in the conference Nutrition for Growth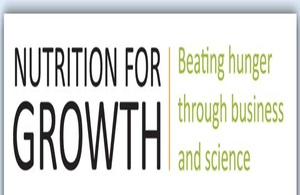 The event is going to be held in London on 8 June. This is a pre G8 summit event to which Guatemala has been invited to share its experience on tackling malnutrition.
Vice-president Baldetti will also be joined by the Secretary for Nutrition Security, Luis Enrique Monterroso, and the Secretary for Competitiveness, Juan Carlos Paiz. The Guatemalan delegation will have the opportunity to present its achievements under the "Zero Hunger Pact".
The event, also sponsored by the Government of Brazil and the Children's Investment Fund Foundation (CIFF), will bring together business leaders, scientists, governments and civil society to make the political and financial commitments needed to prevent malnutrition, enabling people and nations to prosper.
To mark Guatemala's participation in this event, British Ambassador to Guatemala, Sarah Dickson, said:
I welcome Guatemala's participation in this event, proving the country's commitment to tackle malnutrition by working together with the private sector, civil society and international community. The British Government and UK companies, are willing to join this effort and we expect this to be a very productive visit for the Vice-president.
On behalf of the Guatemalan delegation, Luis Enrique Monterroso, Secretary for Nutrition Security said:
We hope that the Guatemalan participation could encourage a UK company to contribute to our programme "Zero Hunger Pact" that would help to create training opportunities on food and nutrition security in rural areas of Guatemala
Published 7 June 2013