World news story
UK welcomes naming of new CICIG Commissioner
The British Minister of State for Latin America, Hugo Swire, has issued a statement from London reaffirming the UK's support to the work of the International Commission Against Impunity in Guatemala (CICIG), and welcoming the appointment of its new Commissioner, Ivan Velasquez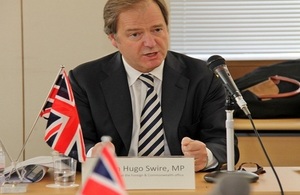 Mr Swire said:
I congratulate Mr Velasquez on his appointment as CICIG's new Commissioner and wish him every success in his role. He brings a lot of valuable experience from Colombia.
Mr Velasquez arrives at an important time for CICIG in Guatemala. His predecessor, Mr Dall'Anese, worked tirelessly with Guatemala's authorities to help tackle criminal impunity and ensure justice is served. But there are still challenges ahead to reduce impunity further to give Guatemalans the security they desire and deserve.
The UK remains committed in its support for CICIG. This support is part of a package of UK assistance to Guatemala's security sector that has included access to UK expertise.
I urge Guatemala's government to back Mr Velasquez and CICIG. As the Commission enters the last two years of its mandate, it is important that there's a robust and sustainable exit strategy that leaves the Guatemalan authorities with the capacity, skills and resources to carry on its good work.
---
Note for the editors: The United Kingdom has supported the work of CICIG financially and politically since it started operating in Guatemala in 2007. One of the British Embassy's top priorities in Guatemala is working with the local authorities to help improve the security situation by sharing expertise, offering access to world class technology and support, and strengthening the judiciary.
Published 6 September 2013