World news story
UK welcomes Guatemala's commitment to WePROTECT
The United Kingdom welcomed Guatemala's commitment to the WePROTECT Global Alliance, confirmed today by the Vice-President, Dr Jafeth Cabrera.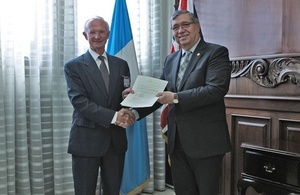 The WePROTECT Global Alliance is an international movement, formed by more than 70 Governments, international agencies, civil society organizations and executives of the technology industry, dedicated to national and global action to end the sexual exploitation of children online.
The United Kingdom has been one of the founders of the Alliance, and has also financed in Guatemala –in hand with the United Nation's Children Fund (UNICEF) - several projects aimed at protecting children online. Today's commitment of Guatemala to WePROTECT strengthens further these efforts working along with many other international partners.
One of the immediate benefits for Guatemala joining the Alliance will be the access to experiences, knowledge, techniques, and even resources that the members of this partnership put at its disposal. The UK Government contributed £40 million in 2015 to a fund hosted by UNICEF to deliver a global programme of capacity and capability building, giving priority to the members, including Guatemala.
Childhood is an especially vulnerable time in Guatemala. According to official statistics, nearly 30% of the allegations presented to the Public Attorney's Office on sexual exploitation are linked to child pornography. Moreover, there is the further risk for these children to be exploited again if the material is not destroyed.
To mark the event, the British Ambassador to Guatemala, Thomas Carter, said:
There can be no greater task than the protection of vulnerable children in our own countries and around the world. We owe it to all those who have lost their childhood to sexual exploitation – and those still at risk – to do everything in our power to protect them, including in the virtual space. I congratulate the Vice-President of Guatemala for this long-term commitment for Guatemala".
The Vice President of Guatemala, Dr Jafeth Cabrera, said:
We are a country that looks to the future, and all new generations should be safe in all areas, and the Internet is one of those.
Published 30 May 2017