World news story
UK warship supports Turks and Caicos
HMS Argyll will visit Grand Turk in a practical demonstration of UK support to its Caribbean Overseas Territories (UKOT), 12-14 July 2014.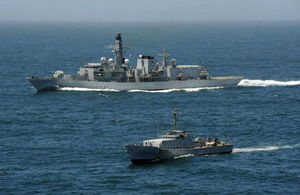 The main purpose of her visit is to strengthen relationships with Turks and Caicos disaster management and recovery officials (DDME), especially in relation to improving crisis communications.
The visit builds on previous meetings between the Royal Navy and Turks and Caicos Government, and disaster management representatives from the other UKOTs, ahead of the Atlantic Hurricane Season in Miami in May.
During her visit HMS Argyll's 191 crew will meet a range of Turks and Caicos Government Officials and provide an aerial reconnaissance of the islands for the Deputy Governor, DDME officials and personnel from the ship, as part of their planning work.
The crew also hope to carry out a community project, helping with the ongoing refurbishment of the Crabtree Corner family park, and there are plans for them to take on local teams at basketball, football and golf when in Grand Turk.
HMS Argyll is in the Caribbean region as part of the Royal Navy's Atlantic Patrol Task (North). This provides a UK a maritime presence in the region all year round. During Hurricane season the ships are on standby to provide humanitarian support to the six UKOTs in the region throughout the 2014 Atlantic Hurricane season: Anguilla, Bermuda, BVI, Cayman, Montserrat and the Turks and Caicos Islands.
During her time in the Caribbean, Argyll will also work with other regional navies and coastguards to combat illegal activities on the high seas.
Published 8 July 2014