UK Visas and Immigration launches 'Select Business Scheme UK'
Scheme will simplify visa applications for Chinese partners of China-Britain Business Council members.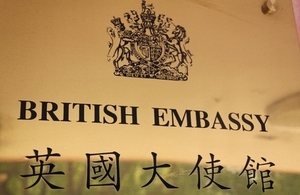 UK Visas and Immigration this week announced a new scheme which will simplify the process of inviting colleagues from Chinese companies to the UK. The 'Select Business Scheme UK' will be available to members of the China-Britain Business Council (CBBC) and the British Chamber of Commerce in China. It will also be offered to members of the Confederation of British Industry (CBI) and companies referred by UK Trade and Investment (UKTI).
Under the scheme, representatives of Chinese businesses will only need to provide an application form, an invitation letter and a letter of employment to support their visa application. CBBC members who participate in the scheme will be provided with a welcome pack and will be assigned a single point of contact within UK Visas and Immigration who will offer support and information for urgent enquiries. In addition, members participating in the scheme will receive news updates and important information from UK Visas and Immigration on further improvements and changes to the visa service.
Dominique Hardy, Regional Manager China and DPRK, UK Visas and Immigration, said:
The introduction of the scheme demonstrates a further strengthening of the relationship between UK Visas and Immigration, the China-Britain Business Council and the British Chamber of Commerce in China.
Lord Sassoon, chairman of CBBC, said:
I wholeheartedly welcome the Select Business Scheme UK, which will streamline the process for companies, and I very much hope that CBBC's members will take advantage of the service to strengthen links between Chinese and British companies.
The initiative is especially welcome on the eve of CBBC's flagship annual China Outbound Conference, which will be held this Wednesday, 22 October in Beijing.
Lord Sassoon said:
The China Outbound Conference is specially designed to help Chinese investors explore the UK market, and will be attended by a large number of major Chinese companies. The Select Business Scheme UK will simplify the visa process for companies by reducing the number of documents required to support an application.
Published 22 October 2014