World news story
UK - Vietnam Defence Working Group discussed bilateral defence collaboration in 2015
Defence Working Group between the UK's Ministry of Defence and Vietnam's Ministry of National Defence held its third annual meeting in Hanoi on 8 January 2015 to identify areas of bilateral defence collaboration in 2015.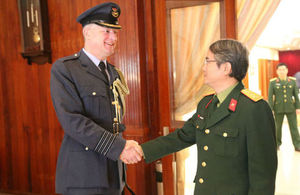 The day-long event was chaired jointly by the UK Defence Attaché to Vietnam and the Deputy Director General of the Department of Foreign Relations of the MOND of the Socialist Republic of Vietnam. Over 20 representatives of the Defence Ministries from Vietnam and the UK attended the meeting.
Defence industrial cooperation was identified as the most significant area for increased bilateral engagement, and agreement was struck to inaugurate a specific task force to advance and pursue defence industry collaboration. During 2015 this will focus on the Maritime domain, using it as a "proving ground" for developing a clearer mutual understanding of the sales and procurement processes of each nation, sharing information on future defence capability requirements, and developing a strategy for enhancing sales and procurement opportunities.
The meeting confirmed multiple opportunities for the exchanges of senior level delegations, including both Ministerial visits and for the Chiefs of the Vietnamese People's Air-Defence Air-Force and Navy to visit the UK in the coming year. These and other visits to both Vietnam and the UK will facilitate direct advancement of cooperative programmes, as well as providing the opportunity for deeper senior discussion on strategic issues such as those pertaining to the East Sea / South China Sea, peacekeeping, and ASEAN initiatives, views on all of which were exchanged during the Working Group.
UK MOD investment in training for officers of the Vietnamese People's Army was another key feature of the discussion. The English Language Training programme funded by the UK MOD and delivered by the British Council will be increased by 300% through a £66 000 (2.2 Billion VND) programme of English Language Training being agreed to start in March of this year. Meanwhile, places for 2 senior officers to join the UK MOD's most prestigious Defence Academy degree-level courses later this summer were confirmed, one at the Advanced Command and Staff College, and one at the Royal College of Defence Studies.
Finally, the meeting also examined many other areas of cooperation, ranging from tightening hydrographic and geospatial interaction to enhanced cooperation in cyber security. At the end of the meeting, Group Captain Tim Below, the UK Defence Attaché said:
Defence industrial cooperation and maritime cooperation will be the 2 key focus areas for our bilateral Defence collaboration in 2015. Today's Working Group has identified enormous potential in both these and other areas, and the desire to deliver results was evident in every discussion held today.The UK is committed to working with Vietnam, and with the agreements struck today, 2015 is going to be a very exciting year for our defence relationship.
Published 9 January 2015