World news story
UK-US businesses honoured in Chicago
Leaders in commercial and cultural relationships between Chicago and the UK will be honoured at the Consul General Awards this evening.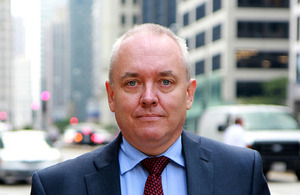 Consul General Stephen Bridges will present awards to The Walgreen Company and Anthony Jones at the 10th Annual British Consul General Awards hosted by the British-American Business Council, Chicago. A third award for innovation will be presented to one of eight companies active in Chicago and the UK.
Walgreens will be honoured for its successful partnership with Alliance Boots. Together the two companies are improving access to quality healthcare products and services and also addressing the problem of food deserts in both the US and Europe.
Anthony Jones CBE will receive an individual honour. Jones led the School of the Art Institute of Chicago for nearly 20 years, following previous leadership roles at the Royal College of Art in London and the Glasgow School of Art.
The third award will honour one of eight companies which were nominated as innovative leaders in the US and UK markets. The companies are featured in a video, which members of the British-American Business Council viewed before voting for the award winner.
The UK is one of the biggest trade partners for Illinois, with $2bn in UK exports to Illinois, and $2bn in Illinois exports to the UK. UK companies employ nearly 52,000 people in Illinois and have invested over $8bn in the Illinois economy.
The UK supports the Transatlantic Trade and Investment Partnership (TTIP) to expand trade and promote growth on both sides of the Atlantic. In Illinois, TTIP could help boost exports to the European Union by 33-percent and create 30,200 new jobs.
The British Consulate General in Chicago represents the UK in the Midwest United States. Keep up with news from the Consulate General on Facebook, Twitter and Instagram.
Published 24 October 2013