World news story
UK unveils new visa application centres in Hanoi and Ho Chi Minh City
Facilities upgraded as part of the UK's biggest ever investment into its global visa application centre network.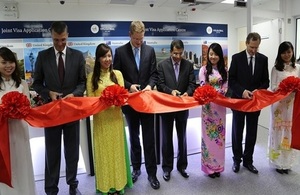 The UK's new and improved visa application centres in Hanoi and Ho Chi Minh City have officially opened their doors.
Both new centres are bigger with greater capacity to reduce waiting times for customers and make the start of the journey to the UK more comfortable. They are operated by VFS Global, UK Visas and Immigration's commercial partner in South East Asia.
The new visa application centres will continue to offer our successful 3 to 5 day priority visa service which is now available to all business visitors, those wishing to work and invest in the UK and Tier 4 student visa applications.
Both centres also offer extended opening hours, a premium lounge service, SMS visa application tracking, photocopying, printing and photo booth facilities.
The new visa application centre and premium services support the strong growth in the number of UK visas issued to Vietnamese nationals. In 2013, we issued a record number of visas - over 13,000 - to Vietnamese customers, 9% more than the previous year. The growth is largely from those going to the UK as tourists and business visitors. There was also a 2% increase in those going to for long-term study.
Antony Stokes, British Ambassador, who officially opened the centre in Hanoi said:
The opening of our new visa centre is a clear demonstration that the UK is open for business. These new visa facilities will provide improved services to Vietnamese who want to travel to the UK. We are really pleased that increasing numbers of Vietnamese are choosing the UK as a top destination for business, study and tourism.
Last year 91% of Vietnamese who applied for a UK visa got one and it took under 8 working days, on average, for a non-settlement visa to be processed.
The new visa application centres are at shared premises with the Australian visa service.
Details of the new centres are on the VFS website. For UK visa guidance and information on how to make an application visit the UK Visas and Immigration website.
Notes to Editors:
UK Visa Application Centre – Hanoi
Vinafor Building, 11th Floor, 127 Lo Duc Street, Dong Mac Ward, Hai Ba Trung District, Hanoi, Vietnam
UK Visa Application Centre – Ho Chi Minh City
2nd Floor, Resco Building, 94-96 Nguyen Du Street, Ben Nghe Ward, District 1, Ho Chi Minh City, Vietnam
Business Hours:
Submission of applications
08:30am to 03.00pm, Monday to Friday (except public holidays) (with prior appointments)
Document collection times
01:00pm to 04:00pm, Monday to Friday (except public holidays)
*VFS Global is responsible only for accepting UK visa applications and the return of documents. All applications continue to be assessed and processed by UK Visas and Immigration staff at the British Embassy in Bangkok.
Published 20 May 2014