World news story
UK unveils new Visa Application Centre in Hong Kong
Minister welcomes launch of the Youth Mobility Scheme in Hong Kong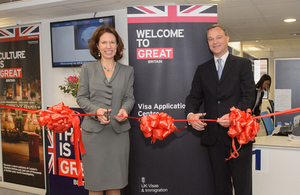 The UK's new Visa Application Centre in Hong Kong was officially opened today following the outsourcing of the UK visa application service in Hong Kong to VFS Global. VFS Global already successfully delivers UK visa services across Asia Pacific, including in mainland China.
The new Visa Application Centre in Hong Kong will provide greater convenience and choice to customers through extended opening hours and a range of premium services.
The centre was officially opened by Parliamentary Under Secretary of State for Foreign and Commonwealth Affairs Mark Simmonds MP, British Consul General to Hong Kong Caroline Wilson, and representatives from UK Visas and Immigration and VFS Global.
Foreign Office Minister Mark Simmonds also presented the first tranche of Youth Mobility Scheme visas to eight successful local applicants, together with a special certificate, and welcomed them to the UK.
Minister Mark Simmonds said:
The UK is pleased to welcome Hong Kong's young people to our youth mobility programme. The scheme provides an excellent opportunity to strengthen cultural links and deepen mutual understanding between the UK and Hong Kong.

I hope these young people from Hong Kong will enjoy their stay with us and broaden their horizons by experiencing life and culture in the UK, and I wish them the best of luck.
The number of UK visas issued to Hong Kongers continues to rise. In 2013, over 10,500 visas were issued: a 10% year-on-year increase driven largely by students which reflects the UK's popularity as a destination for high quality education.
Further information
The new Visa Application Centre is located at 15th Floor, Leighton Centre, 77 Leighton Road, Causeway Bay, Hong Kong. Opening Hours: Monday to Friday 08.00 to 15.00 (08.00 to 18.00 during the summer peak season).
Customers should visit the VFS Global in Hong Kong website for information on how to apply for a UK visa in Hong Kong.
In January 2014 Hong Kong formally joined our reciprocal Youth Mobility Scheme which allows 1,000 HKSAR passport holders, aged between 18 and 30 to live, work and/or study for up to 2 years in the UK. The scheme enables the same number of young Britons to come to Hong Kong under similar arrangements. The scheme was already open to eligible BNO passport holders.
Published 2 May 2014