World news story
UK Transport Minister visits Hong Kong
Parliamentary Under-Secretary of State for Department of Transport Mr Norman Baker, MP, visited Hong Kong on 16 January.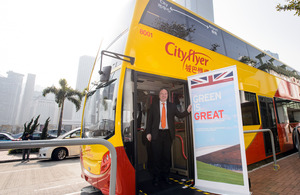 Mr Baker's visit, as part of a regional visit to China, started with a British Chamber of Commerce organised breakfast at the Hong Kong Club, where the key focus point was the role of UK companies in the Hong Kong transport sector. During his visit, Mr Baker met Under-Secretary for Transport, Yau Shing-mu. He was given an overview of Hong Kong's transport system and planned infrastructure developments including major rail projects, road and bridge construction.
Mr Baker also called on a number of leading companies in the transport sector including MTR Corporation, Cathay Pacific and Alexander Dennis to discuss business and investment opportunities. The Consul General, Caroline Wilson hosted a dinner for Mr Baker with key contacts in the low carbon energy and transport sectors.
Published 16 January 2013