World news story
UK Transport Minister makes high-speed visit to Japan
Minister of State for Transport examines Japan's rail infrastructure in mission to deliver the best for the UK's high-speed rail future.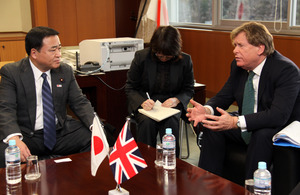 Mr Simon Burns, Minister of State for Transport, visited Japan from 17 – 21 February to experience Japanese high-speed rail from research to design and manufacture to operations, meeting senior officials from JR East, JR Central and JR West, as well as private railway operators and senior officials from the Japanese of Land, Infrastructure, Transport and Tourism (MLIT).
Renowned for their punctuality, cleanliness and use of the latest ticketing technology, Japan's fundamental means of high-speed passenger transport, the shinkansen (high-speed train), offers a wealth of best practices that may be incorporated into the UK's own rail networks. The visit also examined the design and management of stations and how they contribute to the economic regeneration of local areas.
Mr Burns visited JR Central's Shinkansen Control Centre in Tokyo, travelled by bullet train to Osaka and met with Japanese companies to promote growing investment opportunities in the UK as Britain embarks on plans for the next stage of its own high-speed rail network.
Cooperation between the UK and Japan in the rail sector is strong with regular dialogue and exchange. Independent of government, there are regular exchanges of staff between JR Central and many UK rail companies to share knowledge. Meanwhile investment in the UK railway sector in the five years from 2014 has been set at 37.5 billion GBP - the greatest investment in the UK rail system since Victorian times.
Mr Burns said during his visit:
High-speed trains are without a doubt the future for Britain. This can be a critical engine for growth that will help to revolutionise Britain.
Published 22 February 2013