World news story
Zambia trade mission
'British Expertise' to lead major trade mission to assist UK companies to explore business opportunities in Zambia.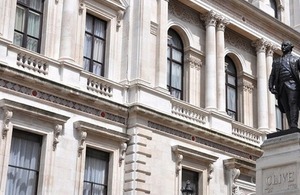 The Trade Mission follows last year's successful scoping mission to Zambia that spurred significant interest from UK companies to further explore trade and investment opportunities in Zambia. It will take place from 12-15 October 2014. This is the first trade mission from the UK to Zambia in several years.
British High Commissioner, James Thornton, said:
I am delighted to welcome the British Expertise led Trade Mission to Zambia. This is an excellent mix of UK companies with expertise in delivering major infrastructure, energy, mining, water and health related solutions. This mission gives UK companies a better chance to understand the business opportunities that the Zambian market offers.

The UK is committed to support Zambia's economic growth and the Department for International Development has a suite of programs aimed at doing just that. I am therefore very positive that this mission too can make a meaningful contribution to Zambia's employment and wealth creation. It is my desire and hope that this trade and investment mission will help take the existing warm UK-Zambia relationship to the next level.
Working with UK Trade and Investment (UKTI) Johannesburg and the British High Commission in Lusaka, British Expertise will provide a three day programme of meetings with senior figures from across the Zambian public and private sector. The visit will focus on opportunities in the infrastructure, mining, energy, health and natural resources sectors.
Delegates will have the opportunity to showcase their capabilities and experience, building strategic relationships with potential business partners in the country. The mission will also celebrate the opening of the official UKTI office in Zambia.
British Expertise
British Expertise is one of the leading organisations supporting British companies by offering professional services internationally. Members range from major international multidisciplinary consultancies to individual specialists. Members are involved in the development of social and physical infrastructure worldwide, employing over half a million people.
Further information
Zambia is currently one of the fastest growing countries in Southern Africa with growth estimated to be around the 6% mark over the next two years. It presents an exciting proposition for companies looking to increase their footprint on the continent.

The Trade Mission will comprise of the following UK firms:

British Expertise
Adam Smith International
IT Transport (ITT) Ltd
WYG
Ecorys UK Ltd
Elantra Investment Ltd
Wagtech Africa LTD
Turner and Townsend PLC
Gapuma Group
IMC Worldwide Limited
Roughton Group
Aggreko
Campbell Reith

The programme will include meetings with the following:

Ministry of Transport, Works, Supply and Communication
Roads Development Agency
Zambia Railways Limited
Zesco (National Power Utility)
Ministry of Finance
Ministry of Health
Ministry of Lands, Natural Resources and Environmental Protection
Ministry of Mines, Energy and Water Development (tbc)
Zambia Development Agency
Zambian Chamber of Commerce and Industry
Representatives from the major mining companies
World Bank and African Development Bank

British Expertise is one of the leading organisations supporting British companies by offering professional services internationally. Members range from major international multidisciplinary consultancies to individual specialists. Members are involved in the development of social and physical infrastructure worldwide, employing over half a million people. For further information please visit the British Expertise website

UK Trade & Investment (UKTI) is a UK Government department working with businesses based in the United Kingdom to ensure their success in international markets, and encourage the best overseas companies to look to the UK as their global partner of choice. UKTI helps British companies of all sizes to grow their business through international trade by offering expert advice and practical support through a range of programmes. It also connects businesses to the world's top commercial opportunities and drives targeted campaigns centred around them. For further information please visit the UKTI website

For commercial enquiries please contact: Matimba Changala, Senior Prosperity Officer on +260 211 423200

For UKTI enquiries please contact: Vichaya Chungu, UKTI Trade Advisor on +260 211 423200

For further information contact the Press and Public Affairs Section on +260 211 423200; Tresford Mumba +260 977 861 491 or Alfred Kapalayi on +260 955 945771
British High Commission, Lusaka, 10 October 2014
Published 13 October 2014