World news story
UK Trade Minister visits Manila to promote business partnerships
Lord Stephen Green of Hurstpierpoint will be visiting Manila to boost trade & investment links between the UK and the Philippines.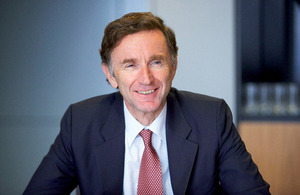 Lord Stephen Green of Hurstpierpoint, UK Minister of State for Trade and Investment is visiting Manila on 16 to 18 September in line with the UK's commitment to boost its trade and investment links between the UK and the Philippines.
During his visit, Lord Green will be meeting various high-level government officials and business leaders in trade, infrastructure and finance, to promote the deepening partnerships between the two countries.
In particular, he will: hold discussions with his counterparts in the Philippines Government regarding a high-level trade Philippines mission to the UK next month; meet the British Chamber of Commerce regarding a new partnership to support UK companies doing business in the Philippines; prepare the ground for a five-month celebration by the British Embassy of the best of British business and culture, building mutual prosperity and deeper friendship with the Philippines; and hold a range of meetings with senior business leaders to discuss potential commercial opportunities and partnerships.
UK trade relations with the Philippines are strong and increasing. The UK is the highest European and fourth highest overall source of FDI in the Philippines and in 2012 total UK exports to the Philippines were up 13% at over £550 million.
In recent years more and more British companies are expanding and entering the Philippine market. Among the recent successes are the launch of iconic men's wear brand TM Lewin, the opening of the new Bentley showroom and the entry of Rolls Royce, the start of deliveries of new Airbus planes with major British components following the USD 7 billion deal with Philippine Airlines, and the tender won by GlaxoSmithKline with the Philippines' Department of Health for the supply of pneumococcal vaccine this year.
Published 16 September 2013