World news story
UK Trade Minister Lord Green to visit Burma
Lord Green will visit Burma for the first time on June 13 to 14 to promote British businesses.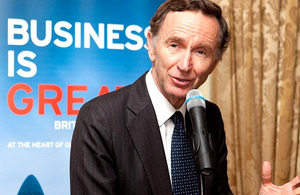 Lord Stephen Green, the British Minister for Trade and Investment will visit Burma/Myanmar for the first time on June 13 to 14 as the last leg of his Southeast Asia Tour to promote British businesses. He will be accompanied by a trade delegation including representatives from major British companies Arup, JCB, Standard Chartered and Crown Agents.
During his visit, Lord Green will meet with the local and international business communities in Rangoon. In Naypyitaw he will meet key Government Ministers, including U Soe Thane, Minister for President's Office and U Win Shein, Minister for Finance and Revenue. In his meetings he will discuss how British Business can support Burma's development in a responsible and sustainable way. He will also meet the Chairperson of the National League for Democracy, Daw Aung San Suu Kyi.
Before arriving in Burma Lord Green said:
This will be my first visit and I am looking forward to seeing for myself the country that is on everyone's lips. The UK has a long relationship with this country and we are committed to playing our part in supporting its peaceful and prosperous future.
Lord Green will also officially launch the newly formed British Business Group and oversee the signing of an MoU between the Institute of Chartered Accountants in England and Wales (ICAEW) and Myanmar Institute for Certified Public Accountants (MICPA). Welcoming this UK-Burma collaboration, Lord Green said:
The signing of the MoU between ICAEW and MICPA is an important step in supporting the development of the accountancy profession in this country I hope my visit will allow me to identify further areas of collaboration.
UK companies are increasingly interested in investing in Burma. British bank, Standard Chartered Bank was the first non-ASEAN financial institution to open a representative office in the country. Unilever, an Anglo-Dutch manufacturing company has just opened its first factory in Burma since 1965 and three of the big four British accountancy firms have already opened offices in the country.
Lord Green said:
I am delighted that just yesterday the European Union formally announced the re-instatement of the generalised system of preferences for this country in recognition of the progress that has been made. This will allow tariff free access to European markets for a number of products manufactured here and will support the development of a sustainable manufacturing sector.
British business is already developing a presence in this country and I hope this reinstatement and the recent lifting of EU sanctions will act as a catalyst to further investment. The British Government actively and enthusiastically encourages responsible investment in this country
In 2012 the UK's exports to Burma were £12.8 million (up 113% yoy) and exports to Burma are already up 178% in the first quarter of 2013 (compared to first quarter of 2012).
Key Facts:
UK Trade & Investment (UKTI) opened its office in July 2012, based at the British Embassy. The UK was the first European country to open a trade promotion office. The team has seen a strong interest from British business, on average supported 25 British businesses a month.

Lord Green's delegation is the third trade delegation to visit in the last year and there are two more planned by the end of 2013. British companies from all sectors are interested in the opportunities in the market. But particularly in financial and professional services, oil and gas and manufacturing.

Currently the UK's exports to Burma are very low. In 2012 exports from the UK were just £12.8 million and imports from Burma to the UK were £44.9 million. However things are improving. Recent figures show that UK exports to Burma for the first quarter of 2012 are up 178%.

The UK has strongly emphasised the need for any investment in Burma to be done responsibly and urges all UK companies entering Burma to promote the highest standards of corporate governance and social and environmental responsibility. To support a responsible business environment in Burma and provide practical advice on human rights and corporate social responsibility, the UK is providing £600,000 for the establishment of a Responsible Investment Resource Centre in Rangoon, to be led by the Institute for Human Rights and Business.
Further information
UKTI Press release on Lord Green's trip
Twitter updates at #LdGreenSEA
Follow Lord Green's visit on Storify
UK Trade & Investment (UKTI) is the government department that helps UK-based companies succeed in the global economy. We also help overseas companies bring their high quality investment to the UK's economy – acknowledged as Europe's best place from which to succeed in global business. UKTI offers expertise and contacts through its extensive network of specialists in the UK, and in British embassies and other diplomatic offices around the world. We provide companies with the tools they require to be competitive on the world stage. For more information on UKTI, visit www.ukti.gov.uk or visit the online newsroom at www.ukti.gov.uk/media.

The government's economic policy objective is to achieve 'strong, sustainable and balanced growth that is more evenly shared across the country and between industries.' It set four ambitions in the 'Plan for Growth' [PDF, 1.7 MB], published at Budget 2011:
to create the most competitive tax system in the G20

to make the UK the best place in Europe to start, finance and grow a business

to encourage investment and exports as a route to a more balanced economy

to create a more educated workforce that is the most flexible in Europe.
Work is underway across government to achieve these ambitions, including progress on more than 250 measures as part of the Growth Review. Developing an Industrial Strategy gives new impetus to this work by providing businesses, investors and the public with more clarity about the long-term direction in which the government wants the economy to travel.
Published 14 June 2013