News story
UK Trade & Investment refreshes board in drive to double exports
Crispin Simon, Sandra Rogers and Jon Harding OBE join in the roles of managing director of trade development, managing director of marketing…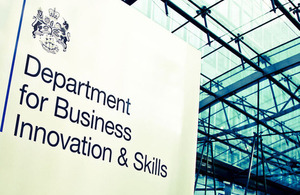 Crispin Simon, Sandra Rogers and Jon Harding OBE join in the roles of managing director of trade development, managing director of marketing and communications, and chief operating officer respectively. The fourth new member of the team, Gavin Little, will join as managing director of investment development in November. These appointments further boost UKTI's private sector experience at senior management level.
Three new non-executive board members, Alex Dorrian CBE, Dale Murray and Jan Ward joined on Monday 1 October.
UKTI's chief executive Nick Baird said:
"Supporting more UK businesses to export is a key plank in the Government's plan for growth. UKTI has reorganised itself to ensure we are providing practical support to exporters and inward investors over the next five years.
"I am delighted that we have been able to attract to UKTI senior executives to bolster the top team and provide leadership across the organisation. Our non-executive board members will also play an active part in guiding and advising UKTI on taking forward this important work."
Nick Baird also thanked retiring non-executive board member Tim Robinson who has completed five years of service on the Board.
"Tim Robinson's business experience and knowledge have been extremely useful to the board and I wish him well for the future."
UKTI is pursuing a five year strategy, "Britain open for business", to support British companies to begin and expand exports and attract greater levels of investment to the UK. The strategy identified four key pathways:
Encouraging significantly more small and medium sized enterprises to export.
Winning high-value opportunities overseas for UK businesses of all sizes.
Creating a pipeline of high quality inward investment, including investment in UK infrastructure and regeneration projects.
Building strategic relationships at the highest levels with the most significant inward investors, the UK's top exporters, and major overseas buyers.
In 2011/12, UKTI helped over 25,000 UK businesses, 90 per cent of which were small and medium-sized, to generate £30 billion in additional sales. This helped those firms create 36,000 new jobs and secure a further 68,500. UKTI also works to attract high quality investment; results for the last financial year showed that the UK secured 1,406 investment projects creating or safeguarding 112,659 jobs.
**Notes to Editors:
**1. Chaired by the CEO, UKTI's board comprises UKTI's executive team, non-executive board members and representatives from UK Export Finance, the Department for Business, Innovation and Skills, the Foreign and Commonwealth Office and overseas posts.
**Executive team members:
**Crispin Simon
**After spells with NM Rothschild, McKinsey, Rexam and Smith & Nephew, Crispin was Chief Executive of Biocompatibles International until its sale to BTG plc in early 2011. During a 25-year career in industry Crispin has been responsible as managing director or group executive for more than 20 small and medium enterprises (SMEs). Over this time he has worked in a range of industries, offering products ranging from genetically modified stem cells to paper bags for boiled sweets. Crispin is a trustee of Alive & Kicking.
**Sandra Rogers
**Sandra is a very experienced senior executive, working most recently as a director for Cisco Emerging Markets, covering South America, Eastern Europe, Middle East and Africa. A fellow of the Institute of Marketing and a senior marketing professional, she has previously held senior roles at HP, Dell Computers and BT plc and has worked in the US, Ireland and Netherlands. As well as her new role with UKTI, Sandra is also currently the non-executive chairman of the UK Hydrographic Office (UKHO), an MOD trading fund.
**Jon Harding OBE
**Jon previously worked at Virgin Atlantic as general manager of International and Distribution leading a global team of 450 staff. Before this he represented Virgin in several markets across its network including general manager roles for Virgin in Japan, China and Greece and then head of Asia Pacific based in Australia. He is a qualified solicitor and practised law in the City dealing primarily with commercial litigation in the mid-90s before joining the Virgin legal team.
**Gavin Little
**Gavin brings more than 20 years' general management, sales, and marketing experience to the role. He is currently non-executive chairman of Active Energy Group - a biomass fuel and energy-efficiency provider in Eastern Europe - and a non-executive director of Parcel2Go.com, the UK's market-leading private online courier company. Prior to this Gavin was managing director of the Northern Europe region for British American Tobacco (BAT), where he was responsible for strategy and operations.
**Non-executive board members:
**Alex Dorrian CBE
**Alex is Chairman of Thales Plc and is responsible for Thales Group's operations in the UK, the USA, Australia, Canada, the Netherlands, Northern Europe and Northern Asia. Alex's previous roles include senior vice president of Thales's global naval business and deputy-group managing director Defence Systems for British Aerospace. He is a Fellow of The Royal Academy of Engineering, The Institution of Engineering Technology, The Institute of Marine Engineering, Science and Technology and The Royal Aeronautical Society.
**Dale Murray
**Dale has been an angel investor since 2006, and has a portfolio of investments across technology, mobile, leisure, cleantech and publishing sectors. She won British Angel Investor of the Year in 2011. She is also a successful entrepreneur, having co-founded the pioneering mobile top-up business Omega Logic, which she built to £19m of revenue within five years. Dale is currently a non-executive director of Sussex Place ventures, a board observer at Specle Ltd and board advisor at Incito Ventures.
**Jan Ward
**Jan is the founder and chief executive of specialist heat and corrosion resistant alloys company, Corrotherm International Ltd. She is a member of the Saudi British Joint Business Council, sits on the advisory and liaison committee to HM Government and the Saudi Arabian government, a founder investor of the Saudi British Development Investment Company, a Non Executive Director of Southampton and Fareham Chamber of Commerce and Hampshire Chambers of Commerce, a Director of Women in Business International and a member of Policy Connect, a group formed to lobby and consult to government on environmental and sustainable business legislation and policy. Jan was awarded the Nat West Everywoman of the Year award in 2009 and International Businesswoman of the year in 2001.
The new board members, whose appointments began on 1 October, were selected in an open competition. They will serve on the board for two years. The executive team members have been appointed for a period of four years.

For more information about how UKTI can help businesses to expand internationally, visit www.uktradeinvest.gov.uk.
Notes to Editors
Contact Information
Name BIS Press Office Job Title
Division Department for Business, Innovation & Skills Phone
Fax
Mobile
Email bispress.releases@bis.gsi.gov.uk
Name Michael Gibbs Job Title
Division Department for Business, Innovation and Skills Phone 020 7215 1635 Fax
Mobile
Published 9 October 2012