World news story
UK Trade & Investment Minister Lord Green spells out recipe for economic growth in Europe
Speaking to Spanish business leaders at the Casino de Madrid, he said that "around Europe, people are impatient to know when they can expect economies to start rebounding and the jobs market to pick up".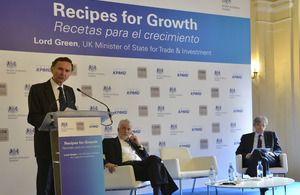 Lord Green said the key ingredients of a recipe for growth included the needs to:
deepen trade between EU member states and to realise the full potential of the Single Market

open up the EU to trade with countries outside Europe – the developed world and the emerging economies

cut regulation and to make European markets more productive and competitive
Video: Lord Green speech -highlights
Spain-UK bilateral trade has more than doubled since the Single Market was created 21 years ago, with £36 billion in goods and services exchanged each year. But the Single Market could be "twice as effective as it is now if we tackle remaining barriers to trade in areas such as the digital market, services and energy" said Lord Green.
Development of the digital single market could increase EU GDP by 4% by 2020 if market obstacles are eliminated and online trade promoted. Better implementation of the Services Directive could increase EU GDP by between 0.8% and 2.6%.
Lord Green said the second ingredient in the recipe for growth came from beyond Europe.
We have in our sights the largest trade deal in history – a Transatlantic Trade and Investment Partnership between the EU and the US.
The Commission estimates that this deal alone could increase the average annual income for a family of four in Europe by 545 euros. It would create a transatlantic market of 700 million people with the potential to generate hundreds of thousands of jobs and boost our economies.
On the third ingredient of better regulation, Lord Green highlighted the need to scrap laws that holds businesses back, imposing unnecessary burdens on hiring new employees or expanding production. He said work on cutting regulation was expected to intensify in the run-up to the June European Council, when the Commission is expected to bring forward measures to reduce the burdens on small and medium-sized businesses.
Spain and Britain should be looking at a period of profound change in Europe "as a chance to reshape and reform the European Union," said Lord Green, "to bring it into the modern era; deepen its internal market; improve its competitiveness; and open it up to trade with the developed and emerging world alike."
Speaking two days before the Global Investment Conference in London on Thursday 9 May, at which world business leaders will discuss how to boost investment and global economic growth, Lord Green added:
The Global Investment Conference is a perfect opportunity to identify areas for collective action and examine opportunities for global investors and companies. Together we can fire up economies and drive prosperity, all over the world.
Notes to Editors Reasons why companies choose to locate in the UK:
World-class professional support services; strong independent regulators and a multicultural, multilingual population, which makes recruiting a workforce easier

UK corporation tax will reduce to 21% next year and 20% the year after

Schemes such as the Enterprise Investment Scheme, which offers 30% income tax relief to those who buy new shares in high-risk companies; and the Patent Box, which aims at introducing 10% corporation tax rate to profits attributed to patents from April 2013

It takes just 13 days to set up a new company in the UK, compared to the OECD average of 15 days and world average of 35 days
Media enquiries only
Press Office, British Embassy Madrid, 917 146 366 / 363
Published 8 May 2013