World news story
UK Trade & Investment hosts Lahore-based business leaders
The event highlighted the planned establishment of British Business Centres across Pakistan this year, starting in Karachi.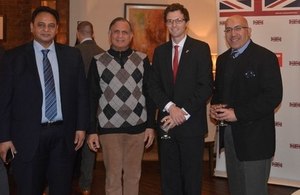 UK Trade and Investment (UKTI) Pakistan hosted a Business Networking Dinner for the Lahore-based business community on 13 January 2015. Ms Malahat Awan was introduced as the incoming CEO of the British Business Centre. Ms Awan explained that the Centre will provide services to British and Pakistani companies to enable them to find new business in the UK and Pakistan.
Mr Ben French, the UK Representative for Punjab, said:
The UK's business engagements in Pakistan are important, and they are growing every day. There are more than 100 British companies operating in Pakistan today, with many more dealing through Pakistani agents and distributors.
Pakistani businesses must consider and explore the trade and investment opportunities the UK presents, not least thanks to the fantastic cultural and people-to-people links. Furthermore, the UK Government has been working really hard to encourage British businesses to invest in Pakistan.
These are exciting times for Pakistan and for the UK's relationship with Pakistan. Increased security, CPEC and growing UK-Pakistani business links are laying the foundation for transformation within the Pakistani business sector and the country's economy, and could be the cornerstone for economic growth for Pakistan.
UKTI has been working successfully in Pakistan for almost 20 years. It is the trade and investment relations arm of the British High Commission in Pakistan helping companies in the UK to increase their competitiveness throughout the country. It also offers professional, authoritative and personalized assistance to help companies in Pakistan locate and expand their business in the UK.
Contact: Press Attaché, British High Commission, Islamabad; tel. 051 2012000
Document information
Published: 15 January 2016