World news story
UK Trade & Investment and the British-Polish Chamber of Commerce forge new growth focused Trade & Investment Partnership
Business is GREAT: the British Ambassador to Poland and the Chairman of the British-Polish Chamber of Commerce sign a Memorandum of Understanding.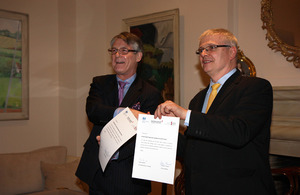 Under the leadership of Robin Barnett, British Ambassador to Poland and the broader British Embassy Commercial Diplomacy Team UK Trade & Investment Poland and the British Polish Chamber of Commerce (BPCC) have signed an important Memorandum of Understanding to forge a new British Polish Trade and Investment Growth Partnership.
The brainchild of Lord Green of Hurstpierpoint, this new venture will see UKTI and the BPCC working in partnership together to significantly increase coverage and reach in promoting the massive bilateral trade and investment opportunities which exist between the UK and Poland, Emerging Europe's leading and highest potential growth market.
During a special signing ceremony at the Ambassador's Residence, the BPCC Board, Patrons and staff, British Embassy Commercial Diplomacy and UKTI teams joined the Ambassador and Chairman of the BPCC in celebrating this excellent new venture. The President of COBCOE who has played a role in capacity building the BPCC to enable it to participate competitively in this new initiative was also present.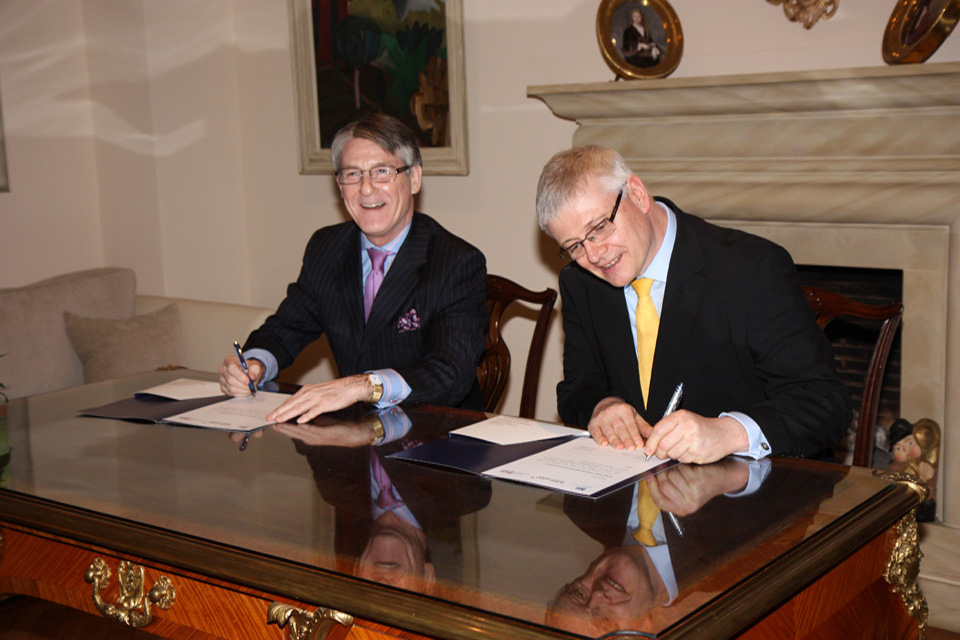 During his inspirational speech just before signing the joint memorandum, HMA Barnett enthused:
I am extremely pleased to see you all here this evening, so motivated to grasp the opportunity of driving the UK's aspirational growth ambition in Poland and playing a great role in the UKs expanded success in this exciting market.
BPCC Chairman, Antoni Reczek, responded by saying:
This is an exceptional moment. The Board of the Chamber and I are honoured and inspired to have the opportunity to take part in such a logical and practical programme to drive forward bilateral trade and investment. This is absolutely the right moment to launch this Great programme and we will work with commitment and diligence to make it a great success.
The long road to British trade and investment supremacy in Poland and the broader Emerging Europe region is a long and tough one. Together we can make the difference and our combined efforts, diligence and commitment will enable UK companies to thrive and prosper in this exciting market.
For more information on how you as a UK based company can access the British Polish Trade and Investment for Growth programme aimed at making it easy for you to do business in Poland contact the Director of UKTI Poland martin.oxley@fco.gov.uk or Paweł Siwecki, Executive Director, BPCC pawel.siwecki@bpcc.org.pl
Please join us and "Go for Growth in Poland" - a Great business destination, a Great programme and a Great opportunity.
Published 5 April 2013