World news story
Angola defence and security mission
David Heath MP led the first UK defence and security trade mission to Luanda, Angola.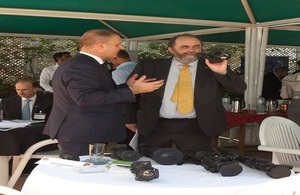 Mr. David Heath MP, the Trade Envoy for the Prime Minister, visited Angola this week to support the UK's first ever Defence and Security Trade Mission to Angola. The mission's purpose was to identify business opportunities for British companies and take part in high-level discussions on both opportunities and increase trade between the two countries.
David Heath said:
I am delighted to have the opportunity to return to Angola. It is a country that has undertaken extraordinary achievements only twelve years after achieving peace. Angola is a rapidly growing market for the UK and our bilateral High Level Prosperity Partnership launched last year demonstrates the desire of both countries desire to strengthen our economic cooperation.

As new opportunities emerge, I am thrilled to be part of connecting UK business with local counterparts in an increasingly important but sensitive sector. As part of the three-day visit to Luanda, David Heath supported the trade mission and also met with Angola's Minister of Water and Energy, H.E João Baptista Borges and the Secretaries of State for Higher Education, Industry and Interior. They discussed ways the UK can support investment opportunities for British companies in these sectors and reaffirm the UK's commitment to responsible investment.
David Heath also met with members of Luanda's British business community, and discussed the new UK Chamber of Commerce which we plan to launch early next year.
HE John Dennis, British Ambassador to Angola, said:
It was great to have the Prime Minister's Trade Envoy in Angola supporting the UK's first ever Defence and Security Trade Mission and engaging with a wide range of senior officials. He was able to meet a wide range of British and Angolan businesses, and the visit will help us boost trade ties, and uncover opportunities for investment.
About David Heath MP
David Heath has a political career spanning nearly 20 years. he is a member of Parliament for Somerton and Frome and was appointed as Deputy Leader of the House of Commons from 2010-2012. He was appointed Minister of State for Agriculture and Food between 2012-2013. In early 2014 he was appointed as the Prime Minister's Trade envoy to Angola and Nigeria.
Contact the UKTI team in Angola for more information and advice on opportunities for doing business in Angola.
Published 27 November 2014