World news story
Trade delegation explores Angolan market
The British embassy in Luanda arranged a visit for leading UK oil and gas businesses to learn about the economy and export opportunities.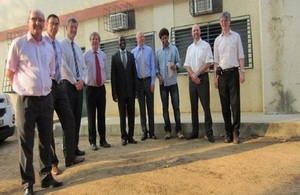 The visit
The delegation, also arranged by the Scottish Development Mission, took place Between 13 and 17 October. Together, they co-ordinated a weeklong series of introductory meetings between a UK trade delegation and Angolan Small and Medium-sized Enterprises (SME).
The ten-strong group of leading UK businesses, travelled to Angola to learn about the country's economy and business environment. They also exchanged ideas on how to expand in the Angolan market. The visit forms part of the Embassy's effort to boost economic ties between Angola and the UK.
John Woodruffe, from UK Trade and Investment (UKTI) in Luanda said:
Co-investing in innovative Angolan businesses presents British entrepreneurs with an opportunity to gain a foothold in one of the world's fastest growing economies.

We look forward to building strong long-term successful partnerships with Angola and fostering economic ties between both countries. As the third largest economy in sub-Saharan Africa, the Angolan Government is working to stimulate the country's SME sector to accelerate the rate of job creation and overall long-term economic growth.
High Level Prosperity Partnerships in Africa
This visit comes as part of the UK's high level prosperity partnership with Angola. The Partnership was launched in 2013 to strengthen economic cooperation between the UK and Angola. It promotes high-quality British investment into the oil and gas, and agriculture sectors. It facilitates access to British expertise in financial services and education.
Contact the UKTI team in Angola for more information on the opportunities for doing business in Angola.
Published 31 October 2014