World news story
UK trade delegation supports economic development in Zambia
DIT trade delegation in Zambia explores business opportunities and showcases UK expertise in mining, energy, agriculture and transport.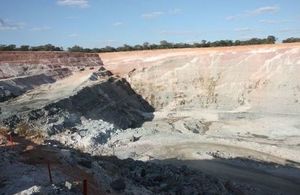 The Department of International Trade (DIT) is leading a 9 man trade delegation to Zambia from 2 to 6 October 2016 to explore business opportunities in this country. The UK has a wealth of over 4,500 suppliers of goods and services in the mining sector to help Zambia achieve economic prosperity.
The trade mission comprising 6 UK companies and DIT officials will focus on the promotion of UK goods and services into mining and mine related infrastructure and energy sector. The aim is to identify companies who could help the private sector and government achieve economic success.
The trip follows a scoping visit to the Kitwe Copperbelt Conference in May 2016 where DIT promoted companies who had a zero or low capital expenditure offer to the copper mines of Zambia.
Welcoming the trade delegation to Zambia, British High Commissioner Fergus Cochrane-Dyet OBE said:
I am delighted to see another trade mission to Zambia after other successful visits in the last 3 years. This demonstrates increased interest among UK companies to do business with Zambia.

This trade mission is an excellent mix of UK companies with expertise in various fields of energy, agriculture, rail transport and productivity and efficiency solutions.

The visit will focus on identifying, establishing and growing business opportunities in Zambia as well as leveraging emerging technologies and UK expertise in power generation, distribution, small scale renewables and micro grids, delivering solutions across the mining spectrum in Zambia.

The UK is committed to support Zambia's economic growth and the Department for International Development (DFID) has a suite of programs aimed at doing just that. I am therefore very positive that this mission can make a meaningful contribution to job and wealth creation in Zambia.
Opportunities in Zambia
The visit is focused on 4 important themes. These are expected to be of benefit to Zambian mining companies on copperbelt and to the wider economy of Zambia. They include:
productivity and efficiency solutions at the mines – new chemicals, big data management, mineralogical testing, inventory management
energy – small and large scale hydro and energy efficiency – government and private sector solutions for hydro and reduced costs at the mine
North West Rail – UK reviewing solutions to help with the development of this important project for the copperbelt and for the broader Zambian economy
agriculture – proposals for 100,000Ha agricultural development in conjunction with the miners of the copperbelt, to diversify the economy of the region, provide jobs and underpin further economics for local infrastructure development
The North West Rail project is important to long term sustainable and affordable method of exporting goods from the mining region and the developing hinterland. It will also allow Zambia the opportunity to be the principal partner for the Democratic Republic of the Congo (DRC) in the export and import of goods ahead of neighbours such as Tanzania.
Bilateral meetings with Zambian mining companies
The UK trade delegation will also hold bilateral meetings with government officials and mining companies such as Konkola Copper Mines, Kagem Mine and Mopani Mine. The UK delegation are able to provide solutions under each of above themes.
Trade mission companies
UK companies represented on the mission and also in attendance on the earlier mission in May 2016 are:
Bechtel
Weir
Clarke Energy
ImpactAgri
Zeiss
Genesys
Buffalo Energy
DIT is represented by trade director for Southern Africa, Emma Wade- Smith and mining and infrastructure specialist, Craig Sillars.
UK Export Finance (UKEF)
UKEF has capacity to provide up to £500 million of support for UK exports to Zambia. UKEF recently showed its ability to assist supply chains for the mining industry in Africa through its support for a project in Ghana.
Published 6 October 2016