UK Trade and Investment wins best trade promotion agency award
Foreign Secretary William Hague has congratulated UKTI on its award for promoting British exports.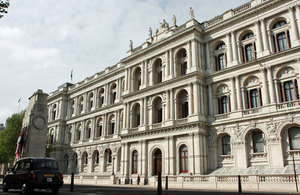 UK Trade & Investment (UKTI) has been nominated 'Best trade promotion agency in the developed world' by its peers at the International Trade Centre's Trade Promotion Network Awards 2010 in Mexico.
Speaking from Brussels on 15 October, Foreign Secretary William Hague said:
"The Government is committed to helping UK businesses succeed overseas and to attracting inward investment. Our ambition for the next five years is to make Britain one of the most competitive business environments anywhere in the developed world, the best place in Europe to set up and run and a business, and home to the most competitive corporate tax system in the G20. This will make a demonstrable difference to the British economy and will create new opportunities for our partners overseas as well as for our own British-based business.
This award celebrates the hard work carried out by UKTI teams in almost 100 countries around the world. Well done to UKTI for getting this award."
Published 15 October 2010