UK trade and growth: one year on
A year on from the launch of its trade strategy, the UK is seeing progress in developing exports and foreign investment.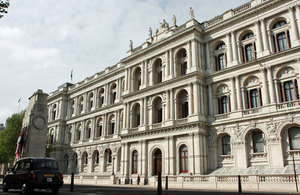 It has been one year since the launch of the Trade and Investment White Paper, which set out the Government's plans to encourage UK exports and inward investment into the UK, and to strengthen international trading systems.
Commenting on progress in the first year, Minister for Trade and Investment Lord Green said:
"We're now one year on from the launch of the White Paper. I am pleased to report that we have laid much of the necessary groundwork and made some real progress. However, we are taking a long term approach and our strategy cannot be secured in just one year; this is a marathon, not a sprint.
"Trade and investment are absolutely fundamental to rebuilding and rebalancing our economy. The UK has a strong history as a trading and investing nation and continues to be one of the world's most attractive places to do business, but the world is changing and we cannot be complacent.
"Encouraging businesses to export more is at the very heart of our approach. We need to ensure business, especially our small businesses, have all the tools they need to flourish, that we strengthen and improve our relationship with trade partners around the world, that we fight protectionism and ensure poor countries can benefit fully from free and fair trade."
UK trade and growth: one year on
It has been one year since the Government launched the Trade and Investment White Paper. Lord Green talks about the progress made and the Government's plan to encourage export and trade.
You can read the Government's assessment of progress here: The Trade and Investment for Growth White Paper - Progress and Achievements in Year One
In the past year, Government has:
Supported businesses to secure more than £800million of high value opportunities overseas

Helped more than 20,000 small and medium-sized enterprises to export and break into new high growth markets like India, China, Brazil and Turkey

Launched new export finance products, to support smaller businesses to sell their products abroad

Introduced Strategic Relationship Management for large UK exporting firms and key inward investors

Worked with the World Trade Organisation to agree Russia's accession, after 18 years of negotiations; and

Helped to secure a revision to the Government Procurement Agreement at the WTO Ministerial meeting in December 2011.
In addition to this, the EU-South Korea Free Trade Agreement has now come into force, worth an estimated £500 million per year to the UK's GDP. The British Government was one of the most prominent and active supporters of this deal.
The Government's commitment to open trade and investment is ambitious and long-term. You can read more here about action in 2012 to support UK exporters, encourage investment in the UK and strengthen open global trade.
Published 28 February 2012