World news story
UK to pledge support for Lebanon at UN General Assembly
This was published under the 2010 to 2015 Conservative and Liberal Democrat coalition government
UK to chair major New York meeting on education, pledge support for Lebanon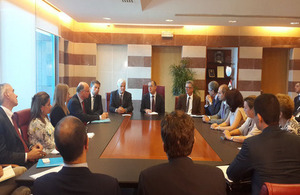 Minister of State for International Development Desmond Swayne MP called on Education Minister Elias Bou Saab and announced that the UK will be chairing a major meeting on education during this month's UN General Assembly (UNGA) under the 'No Lost Generation Initiative'. The US, EU and UNICEF will join the UK as co-chairs.
Following a meeting with Ambassadors and representatives of donor countries, Minister Swayne and Minister Bou Saab held a joint press conference at the Ministry of Education, which was also attended by British Ambassador to Lebanon Tom Fletcher.
In his statement, Minister Swayne, called on international donors in the run-up to the UNGA meeting to deliver concrete commitments, to ensure there is no lost generation of children in Lebanon. He also paid tribute to Education Minister Elias Bou Saab for his leadership on this and his RACE-Lebanon plan which has been a powerful rallying call for the international community.
The UK continues to be at the forefront of education, giving tens of thousands of students an opportunity and a sense of hope for the future. The UK has spent £17.4 million so far in support of Lebanon's education sector.
We will be making a major new announcement of support for Lebanon's education sector in response to the ministry's 'Reaching All Children with Education (RACE) in Lebanon' plan at the UN General Assembly meeting. We call on other donors to join us and come to New York with new commitments for Lebanon. The international community believes that success in generating new pledges at the UNGA meeting is critical to help avert a lost generation in Lebanon.
We are determined that no child in Lebanon misses out on their education.
The UK is combining humanitarian work with longer term development interventions that will help Lebanese host communities and refugees. We have already provided over £250m since the start of the Syrian crisis and we will continue to help Lebanon and the Lebanese people.'
In his statement Minister Elias Bou Saab thanked the UK for its ongoing support to Lebanon especially in the education sector, calling on the international community to help fund the ministry's education plan - aimed at giving every single child in Lebanon the right to an education- for it to succeed.
Notes to Editors
The UK has already contributed £3.4 million to enable the Lebanese government to purchase 307,000 textbook packs for all students aged 6-15 yrs. attending public schools. As well as Lebanese and Palestinian children, Lebanese schools are teaching over 80,000 refugee children who have fled the fighting in Syria.
The UK is the second largest bilateral donor to the Syria crisis. The UK's support to Lebanon has reached £139 million since the beginning of the Syria crisis.
The UK is combining humanitarian work with longer term development interventions that help Lebanese host communities and refugees.
Document information
Published: 10 September 2014