UK to lead global efforts to combat malaria
The UK will help halve the number of deaths caused by malaria in at least ten African countries by 2015, Deputy Prime Minister Nick Clegg will announce today.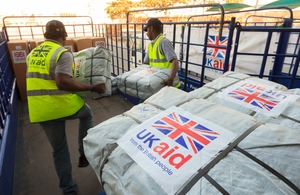 The pledge, to be made at the UN MDGs Summit in New York, will be coupled with an increased focus on boosting malaria prevention and treatment across the developing world by DFID.
As part of this boost, UKaid will save 5,500 children's lives in Zambia by increasing access to malaria prevention, diagnostics and treatment. In Ghana the UK will supply 2.4 million new insecticide-treated bednets, enough to save 13,000 lives a year.
The new UK commitment will be backed by an increase in funding to as much as £500 million per year by 2014 from current spending of about £150 million. The precise figure, countries and programmes to which it will be allocated will be decided as part of the ongoing review of all DFID's country programmes.
Malaria is not only a consequence but a cause of poverty, costing African economies $12 billion a year in health care spending and as much as 1.3% of GDP every year in lost income in the worst affected countries.
Andrew Mitchell, International Development Secretary, said:
"Tackling malaria will mean that millions of people, and especially children, will be saved from its crippling effects, enabling them to work, feed their families and send their children to school.
"Combating this disease is also one of the best investments money can buy - as little as £2 a year can be enough to save a child's life.
"I will now be looking at all DFID's programmes to see how we can build the prevention and treatment of malaria into everything we do."
Published 22 September 2010