UK to increase aid money spent on conflict countries
The Government is set to increase the amount of aid it provides to fragile and conflict-ridden countries. This will boost the fight against extreme poverty and also strengthen DFID's contribution to national security.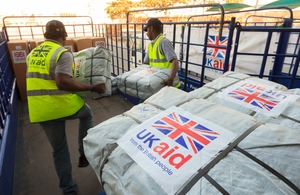 Speaking as the Strategic Defence and Security Review (SDSR) and DFID's Bilateral Aid Review (BAR) move into their final stages, International Development Secretary Andrew Mitchell set out his view that overseas conflicts present both the biggest obstacles to reducing global poverty and can act as incubators of threats to the UK.
No fragile country has yet achieved a single MDG. Twenty-two of the thirty-four countries furthest from reaching the MDGs are in the midst of or emerging from violent conflict. They have higher levels of child mortality and under-nourishment than other developing countries.
In a speech to the Royal College of Defence Studies, Mr Mitchell said intensifying development work in such countries will also help reduce the threat to the UK from the indirect consequences of conflict; terrorism, organised crime and illegal immigration. We will improve the focus on conflict prevention and enhance DFID-MoD ties, he added.
He called for much greater co-operation between the UK's development, diplomatic and military efforts calling for a new "integrated approach" between government departments and international partners. And he stressed that development spend will continue within the OECD/DAC definition of what constitutes aid.
Andrew Mitchell said:
"When it comes to conflict in the developing world, a philosophy of 'out of sight out of mind' is simply naive. The indirect consequences of overseas conflict represent a real and present danger, a danger that cannot be dealt with exclusively by staying at home, bolting the door and drawing down the shutters.
"And that is why I will argue today that we must reassess our response to overseas conflict, putting development at the heart of an integrated approach that supports the world's most vulnerable and protects Britain from external threats."
Mr Mitchell set five key areas where UK government policy must focus if progress is to be made:
Better identification of potential sources of conflict
Questioning important assumptions that underpin both defence and development work
Being realistic about what we can achieve
Understanding that development takes time
Looking for fresh and better ways of drawing together the development, diplomatic and defence tools at the UK's disposal.
Mr Mitchell went on to say that the Millennium Development Goals would not be met without more being done to improve the situation in states judged to be fragile or in conflict.
Published 16 September 2010