UK to help drive low carbon revolution
Two new public-private partnership projects to generate renewable energy in developing countries, removing millions of tonnes of carbon dioxide from the atmosphere and powering up to four million rural homes in Africa, will be announced today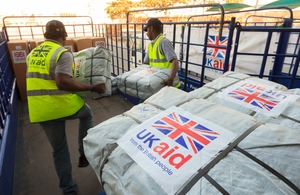 The UK is working on two new public-private partnership projects to generate renewable energy in developing countries, removing millions of tonnes of carbon dioxide from the atmosphere and powering up to four million rural homes in Africa, International Development Secretary Andrew Mitchell said today in his first major speech on climate change.
Climate Change and Development- Part 1 from Peter Armstrong on Vimeo.
Andrew Mitchell said that governments around the world must act now to 'unleash the transformative power' of the private sector, heralding a revolution that has the potential to match the industrial and information revolutions for technological innovation.
In the speech he also called on governments, businesses and citizens to 'get on with it' to tackle dangerous climate change and build resilience for the future as the UK helps the push towards a global deal.
Speaking at an event hosted by the Climate Development Knowledge Network (CDKN), Andrew Mitchell said:
"When it comes to tackling climate change across the world, we have to get on with the job. At the same time as working tirelessly towards a global deal we must not be paralysed into inaction on the ground.
"The private sector is certainly not waiting. Decisions are being made every day on where to locate, on investments and on insurance premiums. These decisions are based on the business reality of climate change.
"Climate change should be the most inspiring, exciting and overwhelming challenge to today's generation of bright, young people, as well as to wise, experienced, older hands. We are at the threshold of nothing less than a new industrial, agricultural and technological revolution.
"That's why we are acting now to support the world's poorest countries adapt to and mitigate against climate change. In Malawi, for example, we are helping farmers to withstand extreme climatic events by investing in drought-resistant crops.
"It's time that all of us - governments, civil society, private sector and individuals - put our shoulders to the wheel and get on with the job. Only then can we secure a future for this planet and a better, safer and more prosperous life for all who live on it."
Early modelling of the Asian fund suggests that it could secure a 1:9 leverage ratio - meaning £9 of private sector investment for every £1 committed by the Government.
Over 25 years, the project could generate 5 gigawatts of new renewable energy and create 60,000 jobs while removing 150 million tonnes of carbon dioxide from the atmosphere.
In Africa, a potential new fund for a cash-on-delivery mechanism could see up to 500 megawatts of new renewable energy per year from 2015 - enough to provide electricity for over four million rural households.
Andrew Mitchell will also announce a new fund to help the poorest and most vulnerable countries to make their voices heard in crucial international discussions in areas such as climate change and trade.
Published 18 November 2010