Press release
UK to end direct financial support to South Africa
Britain's bilateral development programme in South Africa will come to an end in 2015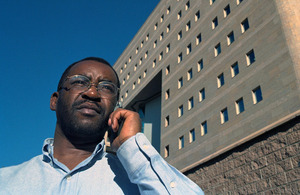 Britain's bilateral development programme in South Africa, which for more than twenty years has helped the country's transition from apartheid to a flourishing democracy, will come to an end in 2015, International Development Secretary Justine Greening announced today.
Speaking at an international conference of business leaders and African Ministers in London, Justine Greening set out how the change in Britain's relationship with Africa's largest economy will help to boost trade across the region and support South Africa's growing role as a development partner of countries across the continent.
The two countries will begin a new relationship based on sharing skills and knowledge, not on development funding, in recognition of the progress South Africa has made over the last two decades. The country now accounts for over a third of sub-Saharan Africa's gross domestic product (GDP) and is a member of the BRICS (Brazil, Russia, India , China, South Africa) group of emerging economies and the G20.
Justine Greening, International Development Secretary, said:
South Africa has made enormous progress over the past two decades, to the extent that it is now the region's economic powerhouse and Britain's biggest trading partner in Africa.
We are proud of the work the UK has done in partnership with the South African government, helping the country's transition from apartheid to a flourishing, growing democracy.
I have agreed with my South African counterparts that South Africa is now in a position to fund its own development. It is right that our relationship changes to one of mutual cooperation and trade, one that is focused on delivering benefits for the people of Britain and South Africa as well as for Africa as a whole.
The UK's bilateral programme in South Africa, currently worth £19 million per year from a peak of over £40 million in 2003, will focus on finishing projects that are already underway. These programmes will help three million more people start or expand their own businesses and help reduce the number of women dying in childbirth by more than 10 per cent.
From 2015, the UK's development role in South Africa will focus on:
technical assistance, sharing skills and knowledge to accelerate poverty reduction and tackle inequality there, providing access to international best practice in areas like health and economic growth

a regional and global development partnership beyond South Africa's borders, working to reduce poverty and drive economic growth across Africa by supporting the country's growing role as a development partner in its own right, as well as its position as the region's major trading hub
Our current work in South Africa includes:
working alongside HM Revenue and Customs to help the South African Revenue Service to strengthen customs and tax systems in other Africa countries, including Kenya, Angola and South Sudan

helping the South African Department of Health to share its expertise on access to medicines with other countries in the region

supporting the Government of South Africa as they establish the new South African Development Partnerships Agency, which will drive new and innovative ways of tackling poverty in Africa using South Africa's own experience of a stable transition to democracy over the last two decades
Published 30 April 2013