World news story
UK technology and expertise showcase at Smart City Expo World Congress 2015
The UK pavilion at Smart City Expo World Congress in Barcelona will showcase British intelligent transport systems and mobility solutions, expertise and technology to city leaders across the world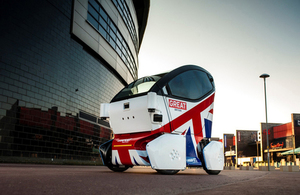 From 17 to 19 November 2015, UKTI will bring together 16 UK businesses and 4 cities to display British world leading innovation and technology with a special focus on this year's main theme: intelligent transport and mobility – the use of new and emerging technologies to transport people and goods more smartly and efficiently.
Also featured will be the Transport Catapult – an innovation centre established to promote Intelligent Mobility – who will present the first UK self-driving car named Lutz Pathfinder. Built and designed by Coventry's RDM Group, as part of the Autodrive project, the car is large enough to accommodate two passengers with luggage.
Smarter solutions for smarter cities
The 16 UK innovative companies present at this year's Expo will be showcasing cutting edge solutions to tackle current and future challenges faced by cities.
The UK pavilion will be showcasing:
Infrastructure maintenance and data traffic information solutions
Understanding demand patterns derived from anonymised mobile network data
Collaborative urban technologies to co-create smarter cities globally
How to optimise quality, improve performance, maintain compliance and reduce risks for Smart City operations, processes, people and assets
Transit mobile ticketing and payments solutions
Transport, mobility and people movement consultancy services
Incident and infrastructure asset management systems
Capture, storage, management, production and supply of geographic information to visualise information from different sources
Public lighting installations control and monitor systems
The Pavilion will hold presentations from leading industry experts, companies and city leaders how they are tackling the challenges of increased urbanization.
UKTI will be hosting two receptions on the UK pavillion bringing the opportunity to network and chat in a relaxed environment with industry representatives, government and local authorities from around the world.
If your company is attending the Smart City Expo, come to our Networking Receptions on 17 & 18 November. Register to attend:
Email: raul.molina@fco.gov.uk
Attendants will need to be registered as a visitors or exhibitors in SCEWC in order to gain access to the reception venue.
Contact us
Whether you are a British company looking into opportunities in Spain or a non British companies looking into establishing in the UK, contact UKTI team to find out how we can support your business:
Corin Wilson Head of Smart Cities – Technology Team, Trade Group corin.wilson@ukti.gsi.gov.uk
Sarah Roles-Ndibe Senior Trade and Investment Advisor, UKTI Spain sarah.roles-ndibe@fco.gov.uk
Published 11 November 2015