World news story
UK tech on show at Technology in Government
The UK Department for International Trade (DIT) showcases 10 innovative UK tech companies at the Technology in Government conference this week.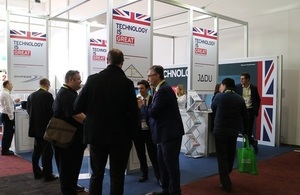 A delegation of 10 UK technology companies, specialising in delivering technology solutions to government organisations, is in Australia this week. The visiting companies are guests of the UK Department for International Trade to participate in the UK technology showcase at the Technology in Government conference in Canberra, and meet prospective partners and buyers across the country.
The 10 UK companies are leaders in their fields offering innovative solutions to all levels of government across the technology spectrum including:
big data and data analytics
information management
cyber-security
web experience management
smart cities technology
The UK's technology sector is larger than the rest of Europe combined and has been one of the fastest growing sectors in the UK over the last decade. It has a strong start-up culture, bolstered by tech clusters across the UK, government investment in innovative technologies and an active venture capital community.
Mr Michael Ward, British Consul General and Director General, UK Department for International Trade, Australia and New Zealand said:
The UK provides the ideal environment for technology companies to thrive and innovate and we are pleased to have such a tremendous cohort as part of our UK technology showcase.

In bringing these companies to Australia, we hope to share the UK's tech expertise and uncover opportunities for Australian organisations to collaborate and add value to their own businesses.

I encourage all attending the Technology in Government Conference to drop by the UK stand and meet the delegation and the DIT team. We can offer valuable support and introductions, as well as advice to Australian companies looking to explore the UK.
Technology in Government conference visitors can meet DIT representatives and visiting UK companies at the 'Technology is GREAT' showcase, stand 34.
Exhibiting UK companies at Technology in Government conference
About the UK Department for International Trade
The UK's Department for International Trade (DIT) has overall responsibility for promoting UK trade across the world and attracting foreign investment to our economy.
We are a specialised government body with responsibility for negotiating international trade policy, supporting business, as well as delivering an outward-looking trade diplomacy strategy.
Published 2 August 2017