News story
UK-Taipei sports agreement gives British firms access to contracts worth £750m
The agreement, signed at today's Global Sports Projects Summit at the British Business Embassy, will help UK companies to capitalise on business…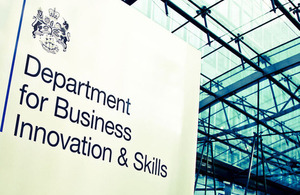 The agreement, signed at today's Global Sports Projects Summit at the British Business Embassy, will help UK companies to capitalise on business opportunities associated with future global sporting events including the 2017 Universiade, for which contracts are expected to total £750 million.
It will also enable Taipei City to benefit from the UK's experience of staging the London 2012 Olympic & Paralympic Games.
UKTI Chief Executive Nick Baird said:
"Following the unparalleled success of the London 2012 Games, UK Trade & Investment is helping British firms identify, win and deliver contracts for major sporting events all around the world.
"The 2017 Universiade represents a major opportunity for UK firms to export their expertise. This collaboration with Taipei City will help the UK maximise the economic legacy of the 2012 Games, and support Taipei as it delivers a world class competition."
UK companies have a strong record of winning infrastructure contracts in Taiwan, and opportunities are expected to including infrastructure, event planning and management, security, low carbon technology and marketing.
**
**Notes to editors
For more information visit: http://news.bis.gov.uk/Press-Releases/More-opportunities-for-British-business-highlighted-as-Paralympics-keeps-global-spotlight-on-London-67f69.aspx

Host2Host is UKTI's Olympic Legacy programme designed to derive an economic and business legacy from the 2012 Games with countries who will host future major international sporting projects. Through a series of strategic agreements with other host nations/cities, Host2Host provides a platform and mechanism to promote UK capability and expertise in the delivery of major events to other hosting nations and enables the sharing of best practice and links with previous and future hosts in order to develop further trade and investment opportunities.

Through MOUs such as this one, UKTI is able to encourage and create opportunities for UK businesses by arranging visits, holding events and symposiums, facilitating partnerships and providing detailed market information.

Other Host2Host agreements have been signed to cover events including Sochi 2014 Winter Olympics and the Rio 2016 Summer Olympics.

The Government's economic policy objective is to achieve 'strong, sustainable and balanced growth that is more evenly shared across the country and between industries.' It set four ambitions in the 'Plan for Growth' (PDF 1.7MB), published at Budget 2011:

To create the most competitive tax system in the G20
To make the UK the best place in Europe to start, finance and grow a business
To encourage investment and exports as a route to a more balanced economy
To create a more educated workforce that is the most flexible in Europe.
Work is underway across Government to achieve these ambitions, including progress on more than 250 measures as part of the Growth Review. Developing an Industrial Strategy gives new impetus to this work by providing businesses, investors and the public with more clarity about the long-term direction in which the Government wants the economy to travel.

UK Trade & Investment (UKTI) is the Government Department that helps UK-based companies succeed in the global economy. We also help overseas companies bring their high quality investment to the UK's economy - acknowledged as Europe's best place from which to succeed in global business. UKTI offers expertise and contacts through its extensive network of specialists in the UK, and in British embassies and other diplomatic offices around the world. We provide companies with the tools they require to be competitive on the world stage. For more information on UKTI, visit www.ukti.gov.uk or visit the online newsroom at www.ukti.gov.uk/media.
Notes to Editors
Contact Information
Name BIS Press Office Job Title
Division Department for Business, Innovation & Skills Phone
Fax
Mobile
Email bispress.releases@bis.gsi.gov.uk
Name Oliver Fry Job Title
Division Department for Business, Innovation & Skills Phone 020 7215 5965 Fax
Mobile
Published 5 September 2012