World news story
UK supports Tunisia's security reform efforts
Tunisian Interior Ministry launched, with UK support, a new Strategic Planning Unit to drive forward ambitious security reform programme.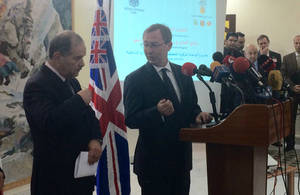 Friday 21 November, Tunis – Deputy Minister in the Ministry of the Interior, Ridha Sfar, announced in a press conference with British Ambassador to Tunisia, Hamish Cowell, the creation of a new central Strategic Planning Unit within the Ministry of Interior to drive forward an ambitious programme of security reform.
The United Kingdom and Tunisia have been working together over the past nine months to take forward the Ministry's strategic reform plan, to help ensure the Ministry can better deal with Tunisia's security challenges and support the democratic political transition.
During the press conference, Ridha Sfar said the new Strategic Planning Unit, supported by similar units in the National Guard, National Security and Civil Protection Department, would work to improve the Ministry's efficiency and effectiveness, to manage risk, pre-emptively tackle security threats through forward planning, address key threats such as border security and terrorism, and improve security for all Tunisians. Together, they will also work to support the Tunisians' aspirations for democratic, accountable institutions.
Speaking to the media, the Ambassador hailed the development of UK-Tunisia relations and said that before the Arab Spring, Tunisia and the United Kingdom had no cooperation in this sector.
"We have come far today. I am delighted to see our cooperation flourish in this new era. Cooperation with the Interior Ministry is a key part of our bilateral relationship. The challenge facing Tunis is also a historic opportunity to prove that democracy is achievable; Tunisia has the United Kingdom's unwavering support for that. As other countries come out of conflict and look for paths to stability, I have no doubt they will look to [Tunisia] for [its] hard-won lessons. I look forward to Tunisia's future and to our continued cooperation."
Discussing British experience, the Ambassador explained: "Strategic Planning is a process that enables us to really understand national threats and enable us to ensure we are building the right security forces, with the right skills and capacities, to counter those threats."
"I am happy that we have been able to contribute to Tunisia's own security reform drawing on British experience. For example, our counter-terrorism strategy 'CONTEST' allows Britain to counter all dimensions of threat and, in a difficult economic environment, strategic planning enables us to plan and use our resources in order to have the greatest effect, and work with the population to do so. The same strategic planning tools also enabled us to protect, in the best way possible, major events such as the 2012 London Olympics."
"Our National Security Council enables our Ministers to make sure we coordinate our strategies across government. But equally every local police force has a strategic plan that responds to local communities' needs and measures performance."
The UK funded programme to build the capacity of the Ministry's strategic planning capabilities was implemented by British company "Aktis Strategy", specialised in security sector reform.
Published 25 November 2014