World news story
UK supports Namibia's drive to attract investment
The UK is hosting a high level Public Private Partnership (PPP) training workshop to facilitate a better investment climate in Namibia.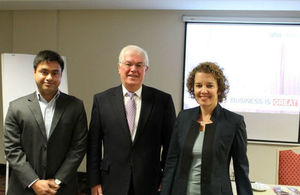 From 25 to 28 July 2016, the British High Commission in Namibia in conjunction with British Expertise International and the Namibian Ministry of Finance, is hosting a four-day practical PPP capacity-building workshop in Windhoek to 30 high level government officials.
This workshop is in line with the Ministry of Finance's objectives. The Harambee Prosperity Plan highlights the approval of a PPP Bill by the National Assembly by December 2016 as a specific milestone.
At the opening, British High Commissioner Jo Lomas emphasised:
Fundamentally this is about the President's anti poverty agenda. The only long term way to fight poverty and inequality is through economic growth and the creation of jobs. That requires investment. The govt is quite clear there are not endless funds for infrastructure development and that much of it must come for the private sector. So that's where PPPs come in. They are not the only answer but they must surely be one of the answers.
The UK funded PPP workshop provides executive level education suitable for both public and private sectors, with a comprehensive overview of the PPP process. The programme is focused on understanding the principles that govern PPP, looking at project financing, structures, insurance and risk management, including mapping the legal framework that governs the process, policy development, stakeholder mapping and more.
The training is being facilitated by John Davie. Davie is chairman of Altra Capital Limited, a course leader for the Advanced Diploma in PPP, a member of the UK Financial Services Sector Advisory Board, a member of the UN ECE Panel of PPP Experts, and has served six years as Chairman of the UK government's PPP Export Advisory Board.
This is the second PPP workshop the British High Commission had delivered this year. Read about the first workshop here
Published 25 July 2016