World news story
UK supports launch of green bonds market in Peru
The UK and the BVL launched the first green bonds market in Peru at a trading bell ceremony in Lima. A Guide to Green Bonds in Peru will be released this month.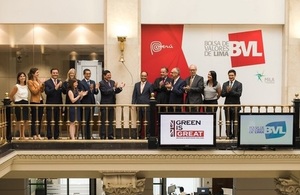 The United Kingdom and the Lima Stock Exchange (BVL) joined efforts to tackle climate change by developing the first green bonds market in Peru. This initiative was launched by the British Ambassador to Peru, Anwar Choudhury, at a trading bell ceremony at the Lima Stock Exchange. A Guide to Green Bonds in Peru will be released in March 2018. This is the first joint initiative for the development of a Peruvian securities market that includes green bonds within its portfolio.
The Green Bonds Guide will present the basic principles that must be met in order to issue green bonds to finance projects for the mitigation and / or adaptation to climate change. It will also summarise international best practices. The guide was developed by MEXICO2, of the Bolsa Mexicana de Valores Group, which successfully developed a similar project in Mexico with funding from the British Government.
The UK has become a global leader in financing to tackle climate change. In 2016, the UK was the fastest G20 country to decarbonise its economy. Renewable energy in the country exceeds the percentage of energy generated by coal thanks to investments in clean energy and the competitiveness of these technologies.
The dissemination of best practices have placed the UK as a global leader in the field. The first list of green bonds was launched by the London Stock Exchange over two years ago and is the largest market for this type of assets.
Further information
Any debt instrument can be a green bond as long as its resources are used exclusively to finance or refinance eligible 'green' projects. The difference between green and traditional bonds, apart from supporting for helping tackle climate change, is that they specify where resources will go and how they will be invested.
The Green Bonds Guide (PDF, 4.98MB, 22 pages) is available to download here.
Published 1 March 2018
Last updated 27 April 2018
+ show all updates
Green Bonds Guide added
Added translation
First published.