World news story
UK supports improved business inspections
This was published under the 2010 to 2015 Conservative and Liberal Democrat coalition government
UK experts train Kyrgyz Government inspectors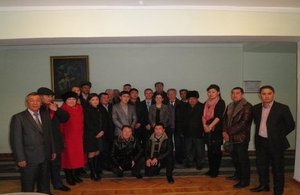 Two experts from the UK Better Regulation Delivery Office (BRDO) visited Bishkek and Osh in early 2014 to work with the Kyrgyz government on improvements to government inspections. Philip Preece and Jenny Nobes from BRDO were supporting the State Inspectorate of Technical and Environmental Safety in reforming business inspections to reduce any unnecessary inspection burden and ensure inspections enable appropriate risk management. BRDO is the UK government expert body for improving regulatory enforcement and inspections. Through a DFID-funded programme, known as IFUSE, BRDO shares expertise internationally to support investment climate reform.
The State Inspectorate of Technical and Environmental Safety, supported by the International Finance Corporation and DFID, has been at the forefront of adopting new ways of working to improve inspections. BRDO has been sharing UK learning with the inspectorate since 2012. The inspectorate, which is responsible for fire safety, labour safety, industrial safety, energy regulation and environmental protection, has adopted a regime to focus their inspections on the highest risks and to provide businesses with more transparency about what to expect through the use of inspection checklists.
The UK experts delivered training sessions on risk based approaches to 180 front line inspectors from regions across the Kyrgyz Republic and worked with the head office team to share UK good practice. The peer learning approach between the UK and Kyrgyz governments will help the inspectorate drive forward implementation of risk based approaches and contribute towards a better business environment in the Kyrgyz Republic.
More information about the expert UK support available through the DFID-funded IFUSE programme and how to access it can be found here.