UK supports Guatemalan Government in shaping its new transparency agenda
The Guatemalan Government launched this week a National Transparency Policy 2016-2022 built upon a consultation process that involved many players in the public sector, and with the support of the British Embassy.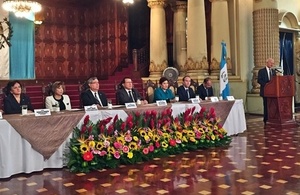 The National Alliance for Transparency agreed a six-year working plan that will see the implementation of policies, protocols and procedures across the government to prevent, detect, sanction and eradicate corruption.
Throughout a consultation process which started early this year, led by the new administration of President Jimmy Morales, the new policy was developed around five principles. Amongst these, all parties committed to increase social audit, guarantee access to public information, implement cross-cutting accountability measures, develop a transparent public bidding process, and promote ethical values.
The Alliance is composed of several institutions, including the Vice-presidency, the Public Prosecutor's Office, the Attorney General's Office, the Human Rights Ombudsman, and the Transparency International Chapter in Guatemala. The British Embassy has supported the process since its inception on the eve of Guatemala's General Election in 2015 and since then as a priority objective for the new government.
The next step is for the authorities to implement the policy and continue its dissemination amongst civil society. The policy should also match other projects from the international community aimed at boosting transparency in Guatemala and complying with international standards in the fight against corruption and best practices for doing business.
At his intervention during the launch of the Agenda, the British Ambassador to Guatemala, Thomas Carter, said:
I congratulate the Alliance for staying committed to this great objective, and I hope that soon we're going to be able to see the policy implemented. I'm sure this instrument will not only reaffirm the country's commitment to the fight against corruption, but will also help improve the business climate and once again make Guatemala look attractive to local and international investors.
Published 9 November 2016