World news story
UK supports Guatemala on the prevention of humanitarian crises
The United Kingdom Department for International Development (DFID) is sponsoring a "Workshop for supplies and logistic handling in Emergencies" in Guatemala as part of a Q2 million funding.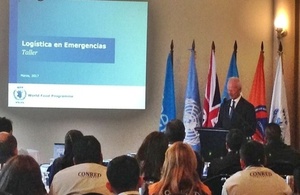 The World Food Programme (WFP) and the United Nations Children's Fund (UNICEF) are organizing the one-week workshop with the aim of strengthening the logistical and coordination capabilities of humanitarian actors in Guatemala in preparedness for future emergencies.
For the first three days the participants will exchange expertise on humanitarian architecture, logistical diagnosis in emergencies, requisition of humanitarian supplies, international aviation norms, and security issues, amongst many other topics. The last two days of the seminar will be dedicated to put in practice some of the acquired knowledge.
The list of participants include functionaries from the Guatemalan Ministry of Foreign Affairs, the Secretariat for Social Works of the President's wife (SOSEP), the National Coordinator for the Reduction of Disasters (CONRED), the Tax Collection Agency (SAT), Guatemala's Humanitarian Team (EHP), Ministry of Agriculture, the Regional Food Security Organization (OIRSA), the National Institute of Commercialization (INDECA), Guatemala's Aviation Club, the National Association of Mayoralties (ANAM), and UNICEF.
The delivery of the workshop will be in charge of DHL international company, the Humanitarian Unit of Response (UHR), the Humanitarian Network (REDHUM), and the WPF.
To mark the inauguration of the event, Thomas Carter, British Ambassador to Guatemala, said:
In a complex operating environment and a globally connected world, harmonisation of the efforts of multiple actors is important. Initiatives such as the workshop for supplies and logistic handling in emergencies present opportunities for action that we must embrace. The UK's goal is to remain an influential, innovative and positive agent of change in emergency preparedness in Guatemala and around the world. Guatemala is a high-risk environment for natural disasters, and this project seeks to mitigate those risks through improved preparedness.
Mario Touchette, the WFP representative in Guatemala, said:
Thanks to the United Kingdom's support through DFID, Guatemalan humanitarian actors will have the opportunity to strengthen our capacity of coordination and by doing so, guaranteeing food and nutritional security of the population that might be impacted by future emergencies.