World news story
UK supports Efforts to Improve transparency and integrity in Tunisia's public governance
Implementation of a code of conduct on government transparency and anti-corruption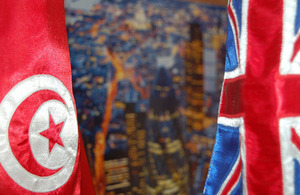 At least 50 Tunisian civil servants from different central and regional governmental institutions benefited on 4 and 5 November from a train-the- trainers seminar – jointly organised by the Organisation for Economic Co-operation and Development (OECD) and the Tunisian Secretariat of State for Governance and Civil Service.
The training focused on the methodology required to implement a new code of conduct for government officials that was developed by the OECD and adopted by the Tunisian government. The Tunisian prime minister, Mehdi Jomaa, endorsed in October 2014 the code of conduct – thus committing all Tunisian public officials to adopting it. The code of conduct was one of the deliverables of a larger project funded by the British Embassy with a total budget over £ 400,000 since 2011 that sought to strengthen the integrity of the Tunisian government by setting up effective transparency disclosure mechanisms, and improving identification of those areas of government most at risk of corruption (e.g. reinforcing the audit, control and risk managements systems, enhancing transparency in public procurement, assisting the creation of a legal framework for whistle blowing protection etc.).
The training participants benefited from advanced training skills and are now equipped with the necessary tools to be able to disseminate and implement the values and principles of the code of conduct within their respective institutions and also to train other fellow public officials on using them. Participants also worked, with the support of the OECD project team, on drawing up communications strategies for raising awareness of the values of the code and for monitoring compliance.
Published 19 November 2014