News story
UK supports Dr Kim's World Bank presidential bid
Secretary of State for International Development, Priti Patel, pledges support for Dr Jim Yong Kim's candidacy for World Bank president.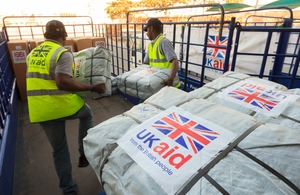 Secretary of State for International Development, Priti Patel, wrote to Dr Jim Yong Kim on Monday confirming the UK's support for his candidacy for President of the World Bank Group for a second term.
Announcing the support, the Secretary of State said:
UK aid allows Britain to secure global objectives in its national interest ranging from exporting economic prosperity to delivering security, stability and poverty reduction across the globe. The World Bank is an integral partner in this, promoting economic growth, tackling instability and helping to end aid dependency.

In his first term Dr Kim has shown that he has the qualities needed to ensure the World Bank remains a leader in efforts to boost global prosperity: a determination to tackle poverty, an ability to deliver concrete results and the will to drive change in a big international organisation.

However, I am clear that the Bank must continue on its path to reform. It needs to work smarter and harder for the world's hardest to reach people and maximise efficiency to achieve value for money for British taxpayers. I want to see the Bank targeting resources at the countries that need them most, and tackling the global challenges of our time – conflict, disease, instability, job shortages, and migration. As a globally-engaged, outward-looking nation, Britain will lead a reformed Bank to tackle these issues at source, before they end up on our doorstep.

I believe Dr Kim has the ambition and vision necessary to deliver change and ultimately results for the world's poorest people.
General media queries
Follow the DFID Media office on Twitter - @DFID_Press
Published 6 September 2016