World news story
UK supports Burma's economic reform and welcomes progress on EITI
Barbara Woodward, Director-General for Economic and Consular issues at the UK's FCO, visited Burma on 17-18 February.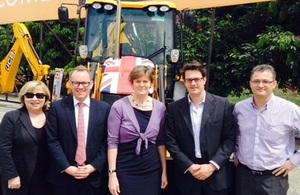 In meetings she re-emphasised the UK's commitment to being a responsible partner and supporter of Burma's economic development. Speaking at a training workshop on responsible business for economic journalists, organised by the UK-funded Centre for Responsible Business, Barbara welcomed the recent meeting of Burma's Multi-stakeholder Group of the Extractive Industries Transparency Initiative (EITI), saying:
EITI can play a key role in increasing transparency within the extractives industry and the use of the funds it produces. Today's workshop is part of a programme of work that the UK government is supporting, to ensure that the new investment that this country receives is sustainable, equitable and ethically viable.
Business, both domestic and foreign, has a key role to play in the economic reform and democratisation of this country. We share the wish of H.E. President Thein Sein's Government - to help create an environment where ethical business can flourish.
Further information
During her two-day visit to Burma (17-18 February 2014) Barbara Woodward met with government, opposition parties, civil society, business representatives and the media.
The training for economic journalists was organised by the Centre for Responsible Business, in conjunction with the British Council, as part of the UK government's prosperity agenda in support of responsible business and investment in Burma.
The UK is the founding donor and biggest contributor (£0.6 million) to the Centre for Responsible Business, which is working with business, civil society and government to determine what responsible business means in practical terms in this country. It is affiliated with the UK-based Institute for Human Rights and Business.
The UK's Department for International Development (DFID) is supporting Burma's attempts to apply for membership of the Extractive Industries Transparency Initiative (EITI). The UK continues to be one of the largest donors to Burma; committing £195 million (approximately $300m) to support the people of the country over four years (2011-2015).
Published 19 February 2014