World news story
UK supports Bolivia's strategy to attract foreign investment
The British Embassy and the Bolivian Ministry of Planning for Development signed an MOU for a study on how to strengthen Bolivia's strategy to attract foreign capital.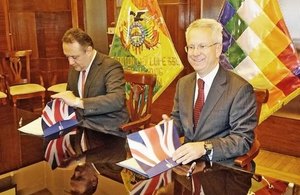 The MOU was signed on 22 November by British Ambassador to Bolivia, James Thornton, and the Minister of Planning, Rene Orellana, who thanked the Embassy for its support to the Bolivian Government's efforts in this area.
Ambassador Thornton said:
I am very pleased for this project that shows the UK's commitment to Bolivia's development. I hope this is the start of a new era in the relationship between our countries.
The study will analyse the current context for foreign investment in Bolivia and identify a number of policy actions and institutional reforms that could be adopted in Bolivia in order to increase the current levels of foreign capital inflows.
During this process, the study will also seek to highlight and analyse the potential application in Bolivia of a number of good practices that have facilitated the creation of new businesses in other countries.
In addition, new business models based on public/private partnership will be explored, taking the experience of the UK as the main benchmark, as innovative ways to attract foreign investment to those sectors of the economy considered as strategic.
In light of the above. The study will propose a set of priorities and a potential timetable for the reforms and actions that could be enacted in Bolivia to enhance the attraction of foreign capital on a sustainable basis.
The study has been trusted to PriceWaterhouse Coopers by means of a competitive call. The deadline for completion is February 2017.
Published 13 December 2016