World news story
UK supports anti-money laundering efforts in Laos
This was published under the 2010 to 2015 Conservative and Liberal Democrat coalition government
British Embassy presents equipment to Bank of Laos to improve efforts to combat money laundering and the financing of terrorism.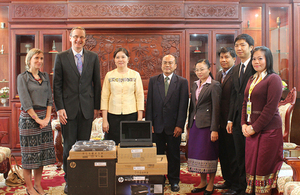 On Wednesday 28 January, Ambassador Philip Malone presented office equipment to the Director General of the Bank of Laos Anti-Money Laundering Investigation Unit, Mr. Phanthaboun Sayaphet as part of a package of assistance the UK government is providing to assist the Lao government's anti-money laundering efforts. The equipment which included desktop and laptop computers as well a printer and overhead projector will be used by the Anti-Money Laundering Intelligence Office as the current Anti-Money Laundering Investigation Unit (AMLIU) upgrades its status and capacity.
The presentation ceremony held in Vientiane was attended by H.E Madam Vatthana Dalaloy, Deputy Governor of the Bank of the Lao PDR.
The British Embassy partnered with the Bank of Laos in early 2014 to assist the Lao PDR's compliance with the Financial Action Taskforce (FATF) recommendations on Anti-Money Laundering/Combating the Financing of Terrorism (AML/CFT) and improve market regulation in the financial sector. The package of support will also include financial investigations training for the police, financial analysis training for officials of the new Anti- Money Laundering Intelligence Office and assistance in translating new AML/CFT legislation and related laws into English in order to satisfy international requirements as set out by the FATF.
This project forms part of the British government's wider aims to work with relevant partners to promote an improved business environment in Laos and a rules-based international economic system.
Document information
Published: 29 January 2015